Why the WTI crude oil price is down today, July 31, 2015: The WTI crude oil price is down 1.4% today (Friday) after a report from Reuters indicated production from OPEC continues to grow.
The monthly survey indicated that OPEC production hit 32 million barrels per day (bpd) in July. That was up 140,000 bpd from June.
In Q2, OPEC nations produced roughly 31.25 million bpd. According to Reuters, that's 3 million bpd more than global demand.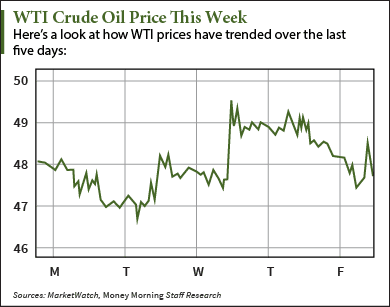 OPEC's largest member, Saudi Arabia, has been producing at a near-record level of 10.6 million bpd.
The high production rate has created a global supply glut that has suppressed crude oil prices throughout 2015.
WTI crude oil hit an intraday low of $47.35 following the news. That's just above the 52-week low of $46.68 WTI oil hit on Tuesday.
The Brent oil price was down $0.48 to $52.83 in early trading today as well.
Another reason crude oil prices have dipped this month is the strength of the U.S. dollar. Because crude oil is priced in dollars, the commodity has been more expensive for international buyers. The Wall Street Journal's Dollar Index, a barometer of the currency's value, has climbed more than 5% in the last three months.
But according to Money Morning Global Energy Strategist Dr. Kent Moors, oil demand will continue to climb in the long term.
And as demand climbs, so too will prices…
Why the WTI Crude Oil Price Will Move Higher in 2015
"One thing is clear," Moors explained. "The ratcheting effect I have been talking about – in which oil has an overall trajectory in one direction (in this case up) despite volatility in the other – is taking shape."
Short-term price dips like today's are to be expected, but they are not a signal that prices will continue lower in the long term.
Still, some analysts claim DUC ("Drilled but Uncompleted") wells will keep bringing down crude oil prices.
They say any surge in prices will tempt companies to complete these unfinished wells to earn more revenue. This extra supply would flood the market and consequently decrease prices again.
But those "experts" couldn't be more wrong. And there are two major reasons why…
Follow us on Twitter @KyleAndersonMM and @moneymorning.
Like us on Facebook: Money Morning.