There are 10 companies on this week's upcoming IPO calendar. According to Renaissance Capital, a manager of IPO-focused ETFs, they're expected to raise a combined $1.35 billion.
The most anticipated deal on this week's IPO calendar is Planet Fitness Inc. (NYSE: PLNT).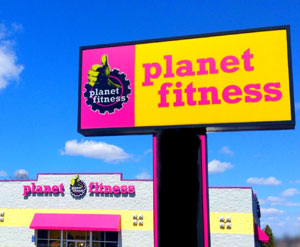 Planet Fitness is one of the largest franchised gym chains in the United States, with more than 1,000 locations and 7 million members. The chain prides itself on its low costs and "Judgment Free Zone," which the company describes as "an environment where you can relax, go at your own pace, and just do your own thing without ever having to worry about being judged."
Planet Fitness' unique franchise model has provided it with strong cash flow and superior growth. The company posted $299 million in sales between March 2014 and March 2015.
According to the U.S. Securities and Exchange Commission filing, the company hopes to eventually expand to 4,000 U.S. locations. However, its owner, equity firm TSG Consumer Partners, plans to receive all of the IPO proceeds while leaving the company with a huge debt burden. The Planet Fitness IPO hopes to raise $203 million by selling 13.5 million shares at a $14 to $16 price range. It commands a $1.5 billion valuation and will hit the market on Thursday, Aug. 6.
Here are nine more deals on this week's upcoming IPO calendar…
Nine More Companies on the Upcoming IPO Calendar
Sunrun Inc. (Nasdaq: RUN) is the second-largest residential solar company in the United States. Founded in 2007, the San Francisco-based company designs, installs, and monitors solar energy systems for home use. Although solar energy stocks have suffered due to low oil and gas prices, Sunrun should benefit from fewer peers thanks to SunEdison Inc.'s (NYSE: SUNE) recent buyout of Vivint Solar Inc. (NYSE: VSLR). The leading residential solar company and Sunrun's closest peer, SolarCity Corp. (Nasdaq: SCTY), is up 395% from its December 2012 IPO. Sunrun is set for a $251 million deal by offering 17.9 million shares at a price range of $13 to $15. The company is valued at $1.5 billion and will begin trading on Wednesday, Aug. 5.
Money Morning Members: Continue reading for the rest of this week's upcoming IPO calendar. For those new to Money Morning, sign up to keep reading – it's completely free…