For Aug. 3, here's what the stock market did today, earnings reports, the top stock market news, and stocks to watch based on today's market moves…
What Did the Stock Market Do Today?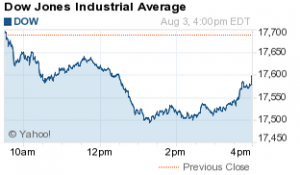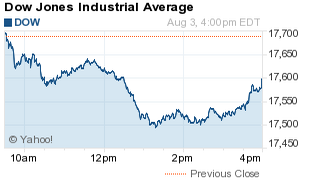 Dow Jones: 17,598.20; -91.66; -0.52%
S&P 500: 2,098.04; -5.80; -0.28%
Nasdaq: 5,115.38; -12.90; -0.25%
Today, the Dow Jones Industrial Average fell 91 points as traders expressed concerns about cratering oil prices and conditions in the Chinese, European, and U.S. economies. According to reports this morning, domestic factory activity slumped in July and consumer spending fell to its lowest levels in four months, raising new concerns about the broader health and momentum of the U.S. economy. Meanwhile, China's manufacturing activity fell more than expected this morning. The news dragged down stocks with broad exposure to the world's second largest economy.
The S&P 500 Volatility Index (VIX), the market's fear gauge, gained 5.2% on the day.
Top Stock Market News Today
Stocks to Watch: F, GM, TSN, AAPL, TWTR
What Investors Must Know This Week
Stay informed on what's going on in the markets by following us on Twitter @moneymorning.