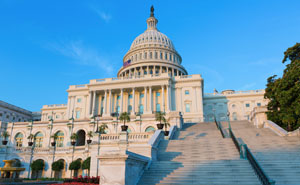 A government shutdown is looming in the background if lawmakers on Capitol Hill can't emerge from the August recess willing to keep the government funded before an Oct. 1 deadline.
Without a plan to keep funding coming, a government shutdown would temporarily reduce the federal workforce and agencies to skeletal staffs while forcing "nonessential workers" to take furlough days. It would close down national parks. It would also limit government services.
The last government shutdown occurred in October 2013 when Republicans in the House of Representatives passed a budget bill that scaled back provisions in the Affordable Care Act – budget cutting measures that Democrats were loath to endorse.
The government shutdown furloughed 800,000 federal workers. And it took 16 days to come to a compromise.
If a government shutdown were to occur, it would be the second time in two years. Despite several contentious budget seasons before the 2013 shutdown, there hadn't been one since 1995.
There will only be 10 days for Congress to compromise on a budget prior to the Oct. 1 deadline, and since videos suggesting Planned Parenthood harvests the organs of aborted fetuses have surfaced, there is likely to be an emotional political battle over defunding the organization.
The Planned Parenthood debate is over $500 million. That's peanuts compared to the $4 trillion budget President Barack Obama introduced earlier this year. But it has much broader implications for the health of the U.S. political process if it does produce a stalemate.
So, how would a government shutdown affect the stock market?
Let's give that a look…
How Would a Government Shutdown Affect the Stock Market