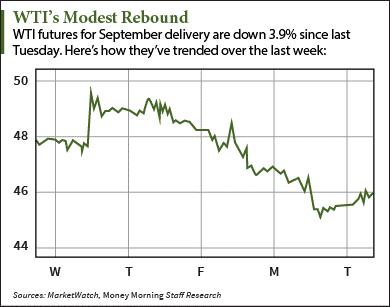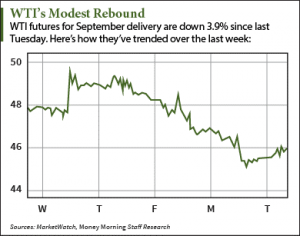 Why the WTI crude oil price is up today, Aug. 4, 2015: The WTI crude oil price today (Tuesday) recovered slightly from yesterday's huge sell-off, which saw the U.S. benchmark dip below $50 a barrel for the first time since January.
At 8:40 a.m., WTI crude oil prices were up 1.57% and trading at $45.88 a barrel. On Monday, WTI fell 4.1% to settle at $45.17 a barrel. That was WTI's lowest level since March 19. In mid-March, the U.S. benchmark hit a six-year low. The benchmark fell 21.2% last month.
Meanwhile, the Brent crude oil price gained 1.47% to trade at $50.25 a barrel this morning. The international benchmark had an even worse sell-off than its U.S. counterpart on Monday, tumbling 5.2% to close at $49.52 a barrel.
"Prices may be recovering slightly this morning, but given the 1.5 to 2.0 million barrels per day oversupply generated by OPEC, the recovery will probably be short-lived," analysts at Commerzbank said in a note this morning. "The yearly lows… are likely to be put to the test over the coming weeks."
But Money Morning Global Energy Strategist Dr. Kent Moors begs to differ. He sees oil demand outpacing supply over the long term for one simple reason…
Why the WTI Crude Oil Price Will Hit the Mid-$70s Range by December
Between now and September, the number of active oil rigs will significantly shrink. That's because extraction levels from these wells peak within the first 18 months they're online. After that year and a half, their output rapidly declines.
That's why Moors sees oil prices climbing as high as $76 a barrel by the end of the year.
"Between July and September of this year, production will finally start to decline from the wells that were recently put on line," Moors explained. "Remember, these are the wells that have provided most of the excess volume."
"The translation? Eventually, the glut will recede, and the market is going to hand us some highly profitable plays in short order…"
Continue reading here for Moors' latest recommendations on how to play this unique supply environment…
Alex McGuire is an associate editor for Money Morning who writes about oil and natural gas. You can follow him on Twitter at @AlexMcGuire92.
Like us on Facebook: Money Morning