The Etsy stock price soared when it hit the market following the Etsy IPO in April.
The Etsy Inc. (Nasdaq: ETSY) stock price was $31.86 a share when the online marketplace started trading on April 16. That was a massive 99% pop from its $16 IPO price. The deal raised $732 million and became one of the largest tech IPOs of the year.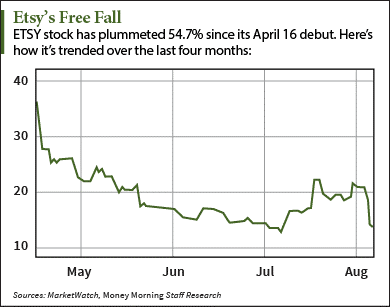 Although the Etsy IPO was met with enthusiasm, the company's valuation overshadowed its lack of profitability. The company even admitted in its IPO filing that it "may not achieve or maintain profitability in the future."
Since then, the Etsy stock price has fallen dramatically. It's down 55% in less than four months and 35% just this week alone. It has become the worst-performing IPO of 2015.
And two horrible earnings reports this year are the biggest reasons why…
How Has the Q2 Earnings Report Affected the ETSY Stock Price?
Etsy Inc. (Nasdaq: ETSY) has reported nothing but losses during its brief time as a public company.
In Q1, Etsy posted revenue of $59 million, up 44.4% from $40.5 million in Q1 2014. However, that number was negated by the company's loss of $0.84 per share. Total operating expenses skyrocketed 73% to $42.7 million over the same period.
The firm's Q2 financials were just as bad. On Tuesday, it reported a second-quarter loss of $6.4 million, or $0.07 per share. Total operating expenses were $43.2 million in the second quarter, up 49.3% year over year. The costs came from marketing, increased hiring, and product development expenses.
The Etsy stock price responded horribly to the report. Shares opened 22.2% lower on Wednesday and fell 7.6% by the end of the day. The stock is down 0.8% as of 2:30 p.m. today.
So now that it has fallen so low, is ETSY stock a buy?
With the ETSY Stock Price Down 0.8%, Is ETSY Stock a Buy?