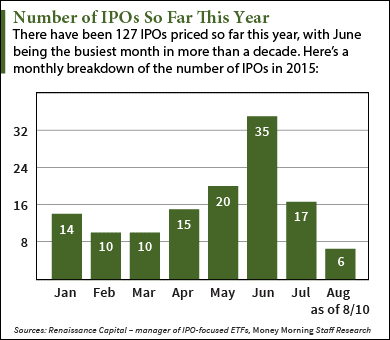 There are five upcoming IPOs this week expected to raise a combined $552 million.
The IPO market has hit a lull recently. Eight out of the 12 IPOs in the last two weeks ended their first day down or flat. Planet Fitness Inc. (NYSE: PLNT) saw no gains in its Aug. 6 debut. Amplify Snack Brands Inc. (NYSE: BETR) tumbled 10% on its first day.
According to Renaissance Capital, a manager of IPO-focused ETFs, this week will be the final push for IPOs as the market enters a four-week break expected to end in mid-September.
Leading this week's IPO calendar is Houlihan Lokey Inc. (NYSE: HLI).
Houlihan Lokey is an international investment bank that specializes in advising mid-cap M&A deals. The firm oversees all aspects of the merger process, including portfolio valuation, financial restructuring, and strategic consulting.
As a leading restructuring advisory firm, Houlihan's earnings have been consistently strong thanks to a boom in U.S. M&A activity. The company posted $600 million in revenue last year, more than competitor Moelis & Co.'s (NYSE: MC) revenue of $519 million. However, the market for mid-cap advisory firms has been weak lately, with close peers Moelis and Greenhill & Co. Inc. (NYSE: GHL) down 11.9% and 15.3% in the last year.
Houlihan will raise $300 million by selling 13.06 million shares at a $22 to $24 price range. It's valued at $1.5 billion and will make its market debut on Thursday, Aug. 13.
Here are the rest of the upcoming IPOs this week…
Four More Upcoming IPOs This Week
Global Blood Therapeutics Inc. (Nasdaq: GBT) is a clinical-stage biotech developing therapies for sickle cell disease and other blood-based conditions. The company could have the largest first-day pop out of any IPO this week as it enters a historically outperforming sector. Competing sickle cell-focused biotechs bluebird bio Inc. (Nasdaq: BLUE) and Ligand Pharmaceuticals Inc. (Nasdaq: LGND) have soared 68.8% and 76.9% in 2015, respectively. Global Blood is set for a $102 million deal by offering 6 million shares at a price range of $16 to $18. It commands a market valuation of $528 million and will hit the market on Wednesday, Aug. 12.
Money Morning Members: Keep reading for the rest of the upcoming IPOs this week. For those new to Money Morning, sign up to keep reading – it's completely free…