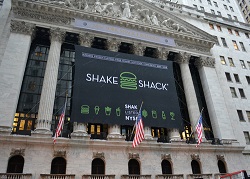 The second-ever Shake Shack Inc. (NYSE: SHAK) earnings report came out after the closing bell today (Monday). The fast-casual burger chain reported better than expected financials in the second quarter.
Shake Shack (NYSE: SHAK) posted earnings of $1.1 million, or $0.08 a share, compared to $1.9 million, or $0.06 a share, in the year-ago quarter. The company's earnings per share (EPS) was $0.09, far above the FactSet Research Systems Inc. (NYSE: FDS) estimate of $0.03.
The strongest parts of the SHAK earnings report were revenue and same-store sales growth. Revenue leaped 75% to $48.5 million, about 13% above the $42.8 million projection. Same-store sales growth increased 12.9%. That was up from 4.5% during the second quarter of 2014.
Shake Shack is the most successful IPO of 2015. SHAK stock has seen a total return of 241% since its Jan. 30 debut. According to Renaissance Capital, a manager of IPO-focused ETFs, that's higher than every other IPO this year. Shares of SHAK are up nearly 9% in post-market trading today.
With all of this bullish news following the SHAK earnings report, investors want to know if Shake Shack stock is a good investment...
Should I Buy Shake Shack Stock After SHAK Earnings?
We advise against buying Shake Shack stock for one huge reason - it's one of the most overvalued new issues on the market right now. You see, the Shake Shack stock price has soared from nothing but speculation.
According to Money Morning Chief Investment Strategist Keith Fitz-Gerald, SHAK stock trades at an unwarranted premium compared to peers like McDonald's Corp. (NYSE: MCD) and Chipotle Mexican Grill Inc. (NYSE: CMG). Its forward price to earnings (P/E) and price/earnings to growth (PEG) ratios are 10 times higher than those of Chipotle and McDonald's.
If you break down those metrics, it turns out that each Shake Shack location is worth a whopping $50 million. That's simply illogical considering how little Shake Shack has grown since hitting the market seven months ago.
"If the Shack is going to achieve a McDonald's-like valuation per location, the company would have to open approximately 864 restaurants representing a 1,170% expansion from the 68 locations they operate today," Fitz-Gerald explained. "The markets didn't believe that, and I still don't."
In fact, the markets were so unconvinced that SHAK stock fell 45% after Fitz-Gerald warned it was a bad investment back in May.
The burger chain is a perfect example of the market's inclination to inflate newly issued stocks that boast "potential" rather than sound financial growth.
"What's happening with Shake Shack is a very serious warning that the markets have become frothy and that investors are chasing hot ideas rather than results," Fitz-Gerald noted.
Alex McGuire is an associate editor for Money Morning who writes about the IPO market. Follow him on Twitter at @AlexMcGuire92 for the biggest IPO news.
Like us on Facebook: Money Morning
Bonus Content: Luxury fashion retailer Neiman Marcus just filed for an IPO that could raise up to $800 million. The deal comes at a time when the luxury-fashion market is exploding. In fact, it's projected to grow to $354 billion within five years. Here's whether or not you should invest in the Neiman Marcus IPO when it hits the market this year...