Gold prices rose to $1,104.10 per ounce Monday, hitting a three-week high. But they're still down 42% from highs reached in September 2011.
Some are calling for gold to fall even further, to $800 or lower.
Current prices offer one of the best chances to buy gold we've seen in a decade.
And with governments around the world printing money to support their flailing economies and stock market volatility surging, there's no shortage of reasons to own gold.
But not all gold is created equal – and the same applies to gold investments.
Here are the most crucial aspects of investing in the yellow metal and what to consider when buying gold…
The Difference Between Physical and Paper Gold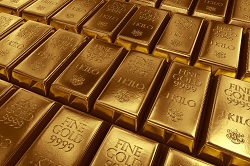 The first thing to realize is there's a big difference between "paper" gold and physical gold.
Owning physical gold in the form of non-collectible coins and/or bars is insurance.
Paper gold, on the other hand, includes everything from gold futures to exchange-traded funds (ETFs). These aren't substitutes for physical gold and should not be treated as such.
Many consider even physically backed gold ETFs to be paper gold because the investor still relies on a manager and custodian.
ETFs are gold derivatives because the owner holds a piece of paper (certificate or brokerage account statement) that represents his or her claim on the gold. Another reason these are considered derivatives is because the unit prices are tied to gold but may trade at a discount or premium to the underlying value.
And sometimes the rules regarding paper gold can change… suddenly.
In the spring of 2013, one of Holland's largest banks, ABN Amro, announced it would stop the physical delivery of its clients' gold holdings. Just a few months later, another Dutch bank, Rabobank, informed its customers it would be closing their gold accounts within two months.
So these account holders were suddenly told they'd have to accept cash in place of gold. Sorry, new policy. No gold… just cash.
That's why it's crucial that investors securely hold at least some of their gold in physical form. It's the only way to own it free of any counterparty risk.
Here's one way to buy physical gold that almost anyone can afford…
Join the conversation. Click here to jump to comments…
About the Author
Peter Krauth is the Resource Specialist for Money Map Press and has contributed some of the most popular and highly regarded investing articles on Money Morning. Peter is headquartered in resource-rich Canada, but he travels around the world to dig up the very best profit opportunity, whether it's in gold, silver, oil, coal, or even potash.