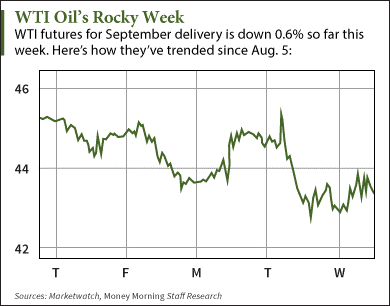 WTI crude oil prices rebounded slightly today (Wednesday) after the International Energy Agency (IEA) released its monthly report.
At 11:00 a.m., WTI crude oil prices were up 1.18% and trading at $43.59 a barrel. Today's rise came after the U.S. benchmark settled at its lowest level in six years. Futures are down 0.6% since Monday.
Brent crude oil prices saw even bigger gains this morning. The international benchmark jumped 1.21% to $50.31 a barrel. It's up 2.2% so far this week.
The rise in WTI crude oil prices today came after the IEA oil market report was released this morning. The agency increased its global oil demand forecast by 200,000 barrels to 1.6 million barrels a day in 2015. That number is projected to keep rising by 1.4 million barrels a day next year.
The organization stated demand will rise significantly as consumers continue to respond to low oil prices.
"Oil's plunge below $50 barrels a day from triple digits a year ago has seen demand react more swiftly than supply," the IEA oil market report said. "Against this backdrop, many participants in the oil industry have adopted a new mantra – 'lower for longer'."
But Money Morning Global Energy Strategist Dr. Kent Moors sees surging oil demand discrediting that mantra. In fact, he sees WTI crude oil prices reaching $76 a barrel by the end of the year for one huge reason…
Why WTI Crude Oil Prices Will Reach $76 by December
Between now and September, the number of active oil rigs will significantly shrink. That's because extraction levels from these wells peak within the first year and half they're online. After about 18 months, their output starts to significantly decline.
That's why Moors sees WTI crude oil prices hitting $76 a barrel by the end of 2015.
"Between July and September of this year, production will finally start to decline from the wells that were recently put on line," Moors explained. "Remember, these are the wells that have provided most of the excess volume."
"The translation? Eventually, the glut will recede, and the market is going to hand us some highly profitable plays in short order…"
Keep reading for Moors' latest recommendations on how to play this unique supply environment…
Follow us on Twitter at @AlexMcGuire92 and @moneymorning.