Stocks tumbled again early today (Wednesday) after a second round of yuan currency devaluation by the Chinese central bank.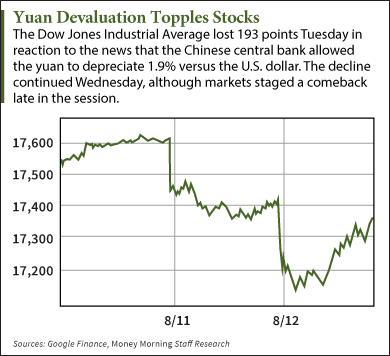 The Dow Jones Industrial Average fell as much as 250 points, or 1.5%, in Wednesday morning trading. That decline followed a 212-point loss (1.2%) Tuesday.
Stock markets around the world have been reeling since the surprise move by the People's Bank of China (PBOC) to let the markets play a greater role in determining the value of the yuan currency.
Tuesday's drop of 1.9% against the U.S. dollar was the biggest since 1994. Today, the PBOC allowed the yuan to fall 1.8%, approaching four-year lows.
Investors are worried that the sudden willingness of the PBOC to devalue the yuan currency is a sign the Chinese economy is much weaker than suspected.
"We spend a lot of time obsessing over Greece or Puerto Rico, but China is a much bigger economy and a much bigger problem to the global economy, and devaluing the currency is shaking people up," Tom Wright, the New York-based director of equities at JMP Securities, told Bloomberg.
Because the move came as such a surprise, the markets didn't have time to sort out the full impact of a devalued yuan currency, adding fear to an already unsettled mood.
"You have reactive behavior and investors scrambling trying to reorient their portfolios and play the guessing game of what the ramifications are here," Gene Peroni, a fund manager at Advisors Asset Management Inc., told Bloomberg.
But two days in, dire implications have become clear: A 10% stock market correction is a strong possibility, and it could easily lead to a full-blown stock market crash.
In fact, at least one market observer believes the devaluation of the yuan will lead to a stock market crash on the scale of what we saw during the 2007-2008 financial crisis…