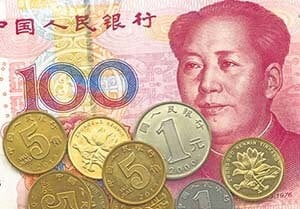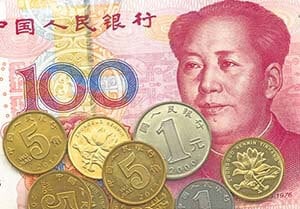 Chinese currency has two names: the renminbi (RMB) and the yuan. The two are oft confused and used interchangeably.
This misunderstanding has amped up as of late...
You see, unprecedented action from China's central bank this week caused the biggest drop in Chinese currency in decades - and counting. (The central bank set the country's official exchange rate to the U.S. dollar lower by 1.1% Thursday, bringing the total devaluation since Tuesday to 4.4%. Further decline is likely in store.)
China's currency move is all over financial news and noticeably sparked disparate "renminbi vs. yuan" use in headlines. Take a look:
Renminbi...
"Markets Rocked as China's Renminbi Tumbles to Four-Year Low," The Telegraph
"Renminbi Devaluation Tests China's Commitment to Free Markets," Financial Times
Versus yuan...
"China Stuns Financial Markets by Devaluing Yuan for Second Day Running," The Guardian
"China Central Bank Tries to Soothe Markets, Says No Reason for Yuan to Fall Further," Reuters
Different usages by major media outlets begs the question, "Exactly what is the difference between yuan and renminbi?"
Here's the answer...
Chinese Currency: Difference Between Renminbi vs. Yuan
In short, renminbi is the official name of Chinese currency, while the yuan is its main unit.
Try thinking of it this way...
Imagine gold is the main currency in the United States. We wouldn't say, "You owe me five gold." We would instead say, "You owe me five ounces of gold."
The same applies to China's currency. Instead of "You owe me five renminbi," you would say, "You owe me five yuan (of renminbi)."
So when speaking about Chinese currency abstractly, it's appropriate to say renminbi. Just like we talk about gold being devalued, we can talk about the renminbi devaluation this week (as you can see in the renminbi headline examples above). The yuan headlines also get it right - those are analogous to saying the price of gold per ounce has gone down.
Tweet the author @TaraKateClarke, or leave a comment on Money Morning's Facebook page.
China's Currency Trouble Is Also U.S. Investors' Trouble: It's become clear Chinese currency devaluation is taking its toll on stocks - and the worst is not over. The Dow Jones Industrial Average fell as much as 250 points, or 1.5%, in Wednesday morning trading. That decline followed a 193-point loss (1.1%) Tuesday. Here's why we could see a stock market crash to rival the one in 2008...