Tesla Motors Inc. (Nasdaq: TSLA) company officials announced in a filing today they will be issuing an additional $500 million worth of Tesla stock. That breaks down to about 2.1 million shares of Tesla stock.
TSLA shares are up more than 2% today on the news.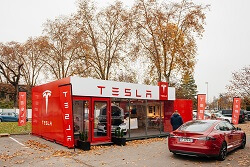 Tesla said the additional funds will be used to help bolster the supercharger network. Proceeds from the share sale will also be used in the construction of the Tesla Gigafactory in Nevada.
CEO Elon Musk plans to purchase a large portion of the shares himself, up to 84,000 shares. That comes out to roughly $20 million worth of Tesla stock.
Musk's purchase is a bullish sign for the Tesla stock price. There is a litany of reasons for an insider to sell shares, but there is really only one reason for them to purchase shares: They see the stock price rising significantly.
TSLA stock has dropped almost 10% in the last week after the company reported an earnings loss of $0.48 per share. While that beat estimates, shareholders were disappointed by the loss.
Revenue for the quarter was $1.2 billion. That beat estimates of $1.17 billion and was a 40% increase from last year.
Despite the recent dip, Tesla stock is still up 8.4% in 2015.
Money Morning Chief Investment Strategist Keith Fitz-Gerald remains bullish on the long-term potential of Tesla stock, saying "I believe Tesla is one of the best long-term investments an investor can make at the moment."
Tesla stock is not a great fit for every investor, but if you meet these certain criteria, you could end up making a huge profit on TSLA stock over the next few years…
Follow us on Twitter @KyleAndersonMM and @moneymorning.
Like us on Facebook: Money Morning.
China Targets the Gold Market: The Chinese government has a multi-pronged strategy to strengthen the Asian giant's economy. After years of playing second fiddle in the gold market to the Western economic powers in Europe and the United States, China is making moves toward a more influential role. Here's how China plans to dominate the world gold market…