For biotech stock investors, what happened to Aquanox Pharmaceuticals Inc. (Nasdaq: AQXP) over the past week looked like the ultimate fantasy come true.
After reporting positive results from a mid-stage test for its bladder pain syndrome/interstitial cystitis drug AQX-1125 on Aug. 7, Aquanox stock took off like a rocket.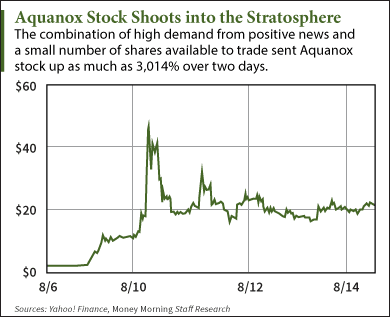 The previously sleepy biotech stock had been trading around $2 and closed at $1.79 on Aug. 6. The next day it shot up 482%.
An intervening weekend did little to settle things down. On the following Monday, AQXP stock briefly touched $55.75, adding another 435%. At that moment, the frothy biotech stock was up an incredible 3,014% from its Aug. 6 close. Yowza.
After hitting that peak, Aquanox just as suddenly fell. By the end of Monday's session, AQXP was at $18.88 – still an impressive 81.2% gain on the day and 955% higher than the Aug. 6 close.
Since then, Aquanox has resumed its climb. It closed at $22 today (Friday), giving the biotech stock a six-day gain of 1,129%.
For those who previously owned AQXP stock, it was like winning the lottery. But any investors who tried to jump into the fray after the price started soaring took a huge risk.
Why? The answer to that lies in how all this happened.
Biotech Stocks Are Naturally Volatile
"I think this was, in some ways, a 'perfect storm' for this stock – though the scope of the jump in price per share is pretty much unheard of," said Money Morning Biotech Investing Specialist Ernie Tremblay.
Let's look at the elements that came together to create this perfect storm.
First, Aquanox is a biotech stock researching new drugs. Biotech stocks have a lot of built-in volatility already, triggered by good or bad news about the drugs in their lab.
According to Tremblay, a typical biotech stock would have gotten a 20% to 100% pop from the kind of news Aquanox reported Aug. 7. But the company also happened to report earnings that day – and beat Wall Street expectations.
Separately, that would have boosted AQXP as well. But the combination of positive news on the AQX-1125 drug and the strong earnings amplified the impact on the stock.
But even that doesn't explain a pop of more than 3,000%.
Here's the reason Aquanox stock behaved so crazily – and what made it ripe to become a trap for retail investors…