After a 23-hour discussion, a Greece bailout agreement was reached Friday between the country and its international lenders. The Greece bailout is worth 85 billion euros ($93 billion).
The marathon parliamentary debate in Brussels was one of the most arduous of Greece's five-year debt crisis. Holding up the latest agreement was fiery procedural bickering led by the speaker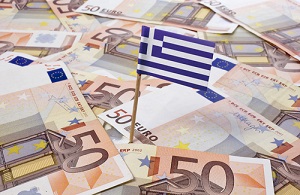 of parliament, Syriza member Zoi Konstantopoulou.
In the end, 222 lawmakers voted in favor, 64 voted against, and 14 abstained or were absent. Still, the vote deepened the widening divisions between the ruling left-wing Syriza party.
The deal still needs to be adopted by Greece's parliament and by Eurozone countries.
However, the currency bloc's 19 finance ministers are expected to approve the bailout in time for Greece to make a crucial 3.2 billion euro ($3.5 billion) debt repayment due next week.
Wolfgang Schauble, Germany's finance minister who has been critical of recent bailout proposals, said he was optimistic a decision on the deal could be reached.
According to multiple reports, European Union officials put substantial pressure on Germany to approve a Greek debt relief deal. An analysis of Greece's debt path showed the cash-strapped country would not be able to recover without a major restructuring of its bailout loans.
The International Monetary Fund (IMF) called the vote a "step forward." But the IMF didn't commit to new funding for Athens. They are waiting until there is a concrete plan in place to reducing the country's mushrooming 320 billion euro ($356 billion) debt.
Questions over Greece's long-term debt sustainability could indeed block approval of the latest deal.
After Greece's Bailout, What's Next?
Debt issues remain a critical concern following the Greece bailout.
The IMF has said it will not contribute funds until steps are taken to make Greece's debt burden more sustainable, and only after Greece's European partners weigh in. If the IMF doesn't commit, the deal could be rejected by Germany, which has a blocking minority vote share.
Germany has maintained a more hardline stance towards Greece than others and has enough voting power in the Eurozone's rescue fund to derail the bailout.
And as in the previous bailouts, Germany and Greece's other EU partners have set tough conditions, and are demanding more austerity.