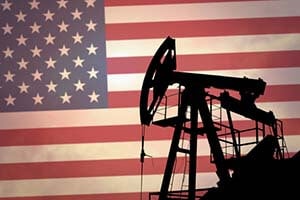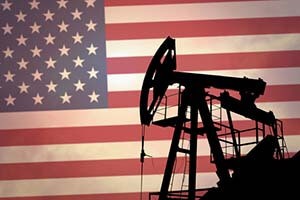 Will the U.S. lift the oil export ban?
That's been the question on investors' minds recently as oil prices fall to new lows. WTI oil prices have cratered 8.1% in August already. The U.S. benchmark hovers at a six-year low of $42.42 as of Friday, Aug. 14.
Fears of a growing global supply glut have increased as some investment firms change their forecasts. Goldman Sachs Group Inc. (NYSE: GS) said in an Aug. 6 note that the global oil market is oversupplied by 2 million barrels a day. The bank estimates the price of oil to stay in the $45 range into October.
"The rebalancing of supply and demand will likely prove to be far more difficult than what was previously priced into the market," Goldman stated.
Here's why ending the decades-old oil export ban would lift crude oil prices…
What Would Happen If the U.S. Lifts the Oil Export Ban?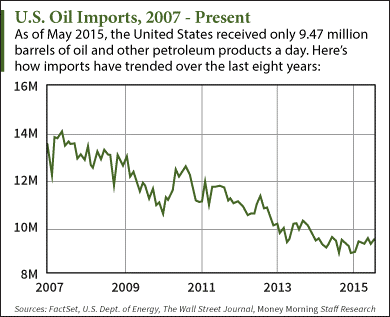 According to a study commissioned by the Consumers and Refiners United for Domestic Energy (CRUDE) Coalition, lifting the ban would boost global oil prices by $3. Repealing the export prohibition would increase both oil imports and the cost of all refined products, including gasoline, jet fuel, and heating oil.
But it would also hurt the already decimated oil job market. The study noted that ramping up oil exports will lower refinery utilization. That would lead to manpower reductions and possible refinery closures.
Congress is now considering lifting the U.S. oil export ban. The House of Representatives is likely to vote on the move as early as next month and pass it on to the Senate by early 2016.
Lifting the oil export ban could mark a milestone few people saw coming. After all, daily U.S. oil production has shot up more than 80% since 2008, reinforcing the fact that the United States is no longer the energy-dependent country it was for most of the 20th century.
"Go back seven years, you would not have imagined that there would be a debate about U.S. exporting oil," said Daniel Yergin, vice chairman of research firm IHS Inc. (NYSE: IHS), to The Wall Street Journal.
With the decision likely hitting Congress in September, energy investors are wondering: Will the U.S. lift the oil export ban?
Will the U.S. Lift the Oil Export Ban?