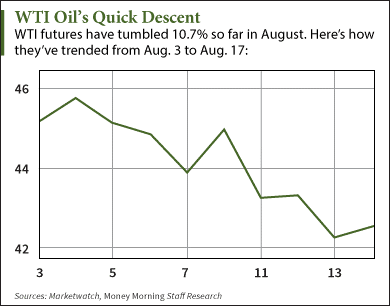 The WTI crude oil price continued its three-month-long decline today (Monday) on poor economic data from Japan and new price forecasts from Morgan Stanley (NYSE: MS).
At 10:45 a.m., the WTI crude oil price was down 0.97% and trading at $42.09 a barrel. The U.S. benchmark has plummeted 33.1% from its May 6 high of $62.93. It's down nearly 11% so far this month.
The Brent crude oil price rose 0.06% to $49.22 a barrel today, but is still down 6.9% in August.
This morning's WTI crude oil price drop came after government data showed Japan's economy contracted in the second quarter. The country's Cabinet Office said today that gross domestic product fell at an annualized rate of 1.6% from April to June. The report cited slumping overseas demand for Japanese goods and lower household spending as the reasons for the price dip.
Since Japan is the third-largest oil consumer in the world, its weakening economy lowers demand for oil imports and causes oil prices to fall.
"There is no engine of growth for Japan right now, either in or outside the country," noted Yuichi Kodama, chief economist for Meiji Yasuda Life Insurance Co., to The Wall Street Journal. "Any economic rebound would be a subdued one."
The decline also comes on the release of Morgan Stanley's weekly energy report. Analysts said this morning that crude oil demand is already near peak seasonal levels and will start to fall as summer comes to a close. Adding to oil's troubles are OPEC's increased production and the U.S. dollar's projected surge throughout the rest of the year.
Despite low oil prices, there are still plenty of ways to make money in the energy sector.
All you need to do is follow these three tips to pick the best oil stocks...