The major U.S. indices are still right about where they started the month of August. But a "death cross" has appeared - and that means they aren't likely to stay that way...
The Dow has lost -0.85%.
The S&P 500 is down just -0.09%.
The Nasdaq gave back -0.84%.
If you are a straight "buy and hold" equity investor, you probably haven't made too much money this month. But if you're an options trader, you could be taking profits all along the way, like we have!
So what does the rest of the month have in store for us?
If you love technical analysis as much as I do, it probably has not escaped you that the Dow Jones Industrial Average shows this "death cross."
That's a trading term for when the 50-day Simple Moving Average (SMA) crosses below the 200-day SMA, as it did last week, on Aug. 10.
A death cross gives an indication of some weakness in the average.
However, its meaning isn't as clear cut as you might think. Will it mean lower prices? Or will it simply be a short-term cross that will rectify itself as prices go higher, eventually bringing the 50-day SMA back above the 200-day Simple Moving Average? Only time will tell.
I'm looking at this shape instead...
The "Death Cross" and the "Triangle"
First, here's a clear look at the Dow's "death cross," courtesy of InvestorPlace.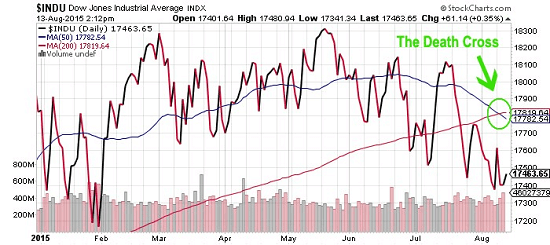 But I want to note that the SPDR S&P 500 ETF Trust (NYSE Arca: SPY), which tracks the S&P 500 Index, is showing an interesting pattern...
The SPY is favoring the 200-day SMA as an area of support.
Each time it has tested this SMA recently, the ETF has bounced higher, as you can see in the chart below.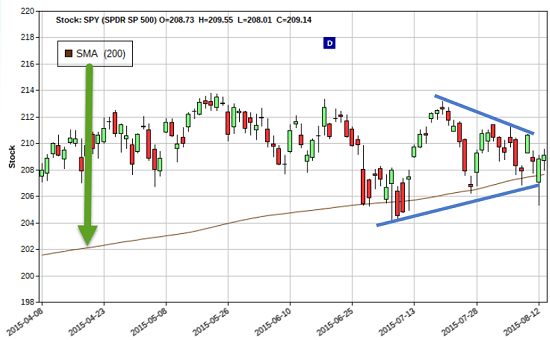 The recent highs on SPY are getting lower, and the lows are getting higher, forming what traders call a "symmetrical triangle." The price usually comes to a point and breaks out one way or another, to the upside or downside. Usually, the price breaks to whichever line is longer, meaning if the ascending support line is longer - like in the chart above - it should break out to the upside.
Two things key me into looking for the markets to go a bit higher, at least in the short term, meaning the rest of this month and next...
Join the conversation. Click here to jump to comments…
About the Author
Tom Gentile, options trading specialist for Money Map Press, is widely known as America's No. 1 Pattern Trader thanks to his nearly 30 years of experience spotting lucrative patterns in options trading. Tom has taught over 300,000 traders his option trading secrets in a variety of settings, including seminars and workshops. He's also a bestselling author of eight books and training courses.