I committed the equivalent of financial heresy in late December 2013 and again in January 2015 when I said Twitter Inc. (NYSE: TWTR) was a bug in search of a windshield and recommended shorting Twitter stock. The blogosphere went nuts and I was taken to task by Twitter-lievers.
Since then, the stock has fallen 63.31% from a high of $74.73 to a low of $27.04. It's rebounded slightly in recent trading and the rally cry has begun anew...
...Twitter Interim CEO Dorsey Buys More Shares in Show of Faith - Reuters
...Twitter Rebounds: Here's Why You Should Be Buying Shares - Bloomberg
...Jack Dorsey and Other Twitter Insiders Make Show of Support - The New York Times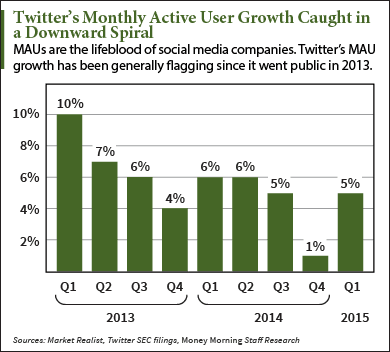 Don't buy it for a New York minute.
The company still has serious problems, and the narrative you're hearing is intended to do one thing and one thing only... separate you from your money.
We're going to talk about that today because knowing what not to buy is every bit as important a tactic as knowing what to buy.
Here's why Twitter stock is still a disaster waiting to happen.
The narrative is certainly alluring, and I don't blame you if you're tempted to think "why are insiders buying Twitter stock now?"
That's what "they" want...And who, exactly, are "they?"
Wall Street's investment bankers, venture capitalists, early investors, and legions of analysts who have slapped "Buy" ratings on the stock because of the company's potential.
At the risk of sounding like a broken record, you and I have talked a lot about this and why it's so dangerous. If you've just joined us, here's the CliffsNotes version...
Potential doesn't equate to profits but, rather, a much more dangerous element - hopium - as in you "hope" that the stock goes up so another more gullible investor pays more than you did at some point in the future.
"Hopium" is the core of any Twitter bull's argument - and here is why it's still a terrible investment...
Join the conversation. Click here to jump to comments…
About the Author
Keith is a seasoned market analyst and professional trader with more than 37 years of global experience. He is one of very few experts to correctly see both the dot.bomb crisis and the ongoing financial crisis coming ahead of time - and one of even fewer to help millions of investors around the world successfully navigate them both. Forbes hailed him as a "Market Visionary." He is a regular on FOX Business News and Yahoo! Finance, and his observations have been featured in Bloomberg, The Wall Street Journal, WIRED, and MarketWatch. Keith previously led The Money Map Report, Money Map's flagship newsletter, as Chief Investment Strategist, from 20007 to 2020. Keith holds a BS in management and finance from Skidmore College and an MS in international finance (with a focus on Japanese business science) from Chaminade University. He regularly travels the world in search of investment opportunities others don't yet see or understand.