JP Morgan, Goldman Sachs, and Morgan Stanley are creating a data company that will give them shared access to certain market data. The goal for the big banks is to cut data management costs.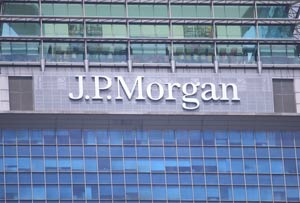 The Wall Street Journal reported yesterday (Wednesday) the trio will form a new company that accumulates and scours reams of the most accurate data from all over the world. The data will be used to help them determine pricing and trading costs.
Banks and other institutions currently spend some $24,000 per person annually for access to such data. The widely used Bloomberg Terminals are an example.
The new initiative from JPMorgan Chase & Co. (NYSE: JPM), Goldman Sachs Group Inc. (NYSE: GS), and Morgan Stanley (NYSE: MS) is currently dubbed "SPReD." It stands for Securities Product Reference Data and will likely be launched in the next six to 12 months.
JP Morgan, Goldman Sachs, and Morgan Stanley are each said to be investing "seven figures" in the company.
The newly formed company will initially deal with reference data on financial instruments, such as listed derivatives and equities. Later, it will add fixed income-related data to its offerings.
In the past, the banks dealt with the vast amount of data individually, spending a large amount of money on the much-needed segment. Using consistent data allows the banks to form accurate pricing for trades. It's also essential for any risk and compliance reviews that could arise.
Most importantly, it will help the banks trim costs.
Banks sometimes spend upwards of hundreds of millions on data management, according to Deloitte Consulting LLP.
Along with mounting costs from things like data access, banking revenue has been hampered over the last seven years. Lower trading volumes, historically low interest rates, regulatory fines, and capital control requirements have all pressured banks' profits.
Since the 2008 financial crisis, banks of all sizes have been cutting costs, eliminating employees, and attempting to be more efficient to boost profits. Wall Street's largest firms have increasingly collaborated since the crisis to create new entities that help them save money, meet regulatory needs, or challenge officials.
Non-interest expenses that include salaries, investments in technology, and compliance costs at the six biggest U.S. banks by assets rose 11.9% from 2009 to 2014.
The move from JP Morgan, Goldman Sachs, and Morgan Stanley is "the latest example of increasing cost-conscious banks coming together to save on headcount, expenses, and time," according to The Journal.
Stay informed on what's going on in the markets by following us on Twitter @moneymorning.
Profit Alert: Since Money Morning Executive Editor Bill Patalon launched his Private Briefing program just a few short years ago, he's recommended 192 stocks that have either doubled or tripled in value. The service has completely revolutionized the way people invest. Keep reading to find out more about his extensive research and premium stock picks…
Related Articles: