For Aug. 21, here's how the Dow Jones Industrial Average did today, earnings reports, top stock market news, and stocks to watch based on today's market moves…
How Did the Stock Market Do Today?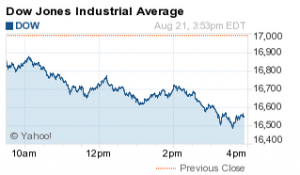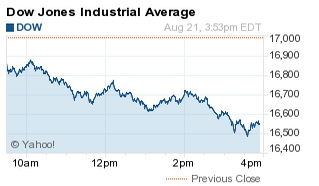 Dow Jones: 16,459.55; -531.14; -3.13%
S&P 500: 1,970.94; -64.79; -3.18%
Nasdaq: 4,706.04; -171.45; -3.52%
The Dow Jones Industrial Average today fell more than 3.1%, continuing the downtrend after Thursday's huge sell-off. The Dow slid 531 points, while the Nasdaq dipped another 3.5% as technology stocks slumped. Shares of Apple Inc. (Nasdaq: AAPL) continued to slide on China market woes, falling another 5.9% on the day. Apple stock is now officially in bear territory.
The company joins nine other Dow stocks that are now in bear territory: International Business Machines Corp. (NYSE: IBM), Proctor & Gamble Co. (NYSE: PG), Chevron Corp. (NYSE: CVX), Exxon Mobil Corp. (NYSE: XOM), Intel Corp. (Nasdaq: INTC), Caterpillar Inc. (NYSE: CAT), United Technologies Corp. (NYSE: UTX), Wal-Mart Stores Inc. (NYSE: WMT), and Du Pont Co. (NYSE: DD).
Technology was hit the hardest. Shares of Amazon.com Inc. (Nasdaq: AMZN) slumped another 4.1%, Microsoft Corp. (Nasdaq: MSFT) fell 5.7%, and Google Inc. (Nasdaq: GOOG, GOOGL) retreated 5.3% on the day. Meanwhile, Chinese e-commerce giant Alibaba Group Holding Ltd. (NYSE: BABA) fell to an all-time low as Chinese stocks continued to slide over concerns about the world's second-largest economy.
The S&P 500 Volatility Index (VIX), the market's fear gauge, surged more than 39% on the day.
Top Stock Market News Today
Stock Market News:S. stock markets had their worst week since 2011, fueled by big declines in global markets like China and Germany. Today, the Shanghai Composite fell roughly 4.3%, while domestic oil prices fell below $40 to their lowest levels since 2009. Markets are increasingly concerned about the health of the Chinese economy, which saw its steepest decline in the nation's manufacturing sector since 2009.
Oil Moves: Domestic WTI oil prices fell nearly 2.5% on the day, setting at $40.25 on the day. Prices slipped below $40 temporarily for the first time since 2009. Meanwhile, Brent oil prices dipped 1.1% to $46.65 per barrel. The decline of oil prices are a huge drag on multinational giants like Exxon Mobil Corp. (NYSE: XOM), down 3.4%, and Chevron Corp. (NYSE: CVX), down 4.4% today.
On Tap Monday: On Monday, investors will await a speech by Atlanta Federal Reserve Bank President Dennis Lockhart on public pension reform and will look to the Chicago Fed Manufacturing Index for an update on domestic production.  Companies reporting earnings include American Eagle Outfitters Inc. (NYSE: AEO), Hanger Inc. (NYSE: HGR), Rosetta Resources Inc. (Nasdaq: ROSE), and Premier Inc. (Nasdaq: PINC).
Stocks to Watch: DE, TFM, NFLX, TWTR, HPQ
What Investors Must Know This Week
Follow us on Twitter: @moneymorning.