Ekso Bionics Holdings Inc. (OTC: EKSO) stock, our first Human Augmentation recommendation, has drifted lower in recent trading to around $1.15 a share, causing many investors to wonder if the company's "okay."
In a word, yes.
The business case is stronger than ever. The company continues to hit many of the milestones I laid out for you as being essential to building the proper base for a successful future even as key competitors, including ReWalk Robotics (NASDAQ: RWLK) and Cyberdyne Inc. (FRA: 8C4), have delivered double digit losses of 69% and 16%, respectively, over the same time frame.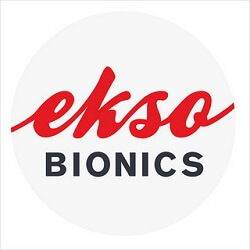 I know that's hard to imagine given that the stock hasn't taken off yet, but to paraphrase David Carradine's character in the 1972 television series, "Kung Fu," "have patience, grasshopper."
Ekso stock is far more stable than the competition and still has the potential to dominate an industry that will grow by 12,627%, from $16.5 million in 2014 to $2.1 billion by 2021, a short six years from now.
Today we're going to talk about why and, as usual, what it means for your money - including a new development that speaks volumes about why my predictions may ultimately prove conservative.
Here's why I'm still projecting gains of more than 2,000% in a few years' time for Ekso Bionics.
EKSO Bionics Is Crushing Rivals in a Three-Front War in Its Industry
Last April, Winter Green Research released a report projecting the exoskeleton market to skyrocket from $16.5 million in 2014 to $2.1 billion by 2021. Chances are, you can do the math just like I can... that's a market smashing 12,627% expansion running at a compound annual growth rate of approximately 177%.
You simply don't see this kind of potential very often which is, of course, why we're focused on it.
Now most people hear those numbers and immediately think there will be room for a lot of players down the line. So there's no urgency when it comes to investing... they can always invest later, goes the thinking.
In reality though, the first players in - those with the right combination of products and the marketing savvy needed to gain an early lead and keep it - will be the winners. This isn't the Internet or a technology company that can literally be replaced at the click of a mouse.
EKSO's suits are medical devices with complicated financial linkages to insurance companies, medical treatments and, most importantly, patients that cannot be replaced at will. That means every dollar gained is not just revenue but, rather, a dollar the competition has lost. Perhaps permanently.
This is a distinction most investors miss because their emotions get the better of them. Many times they run out of patience long before the stock they're interested in has had the time to build up the profits that ultimately propel it skyward.
I bring this up because EKSO's latest earnings report (released Aug. 11) was fabulous...
Join the conversation. Click here to jump to comments…
About the Author
Keith is a seasoned market analyst and professional trader with more than 37 years of global experience. He is one of very few experts to correctly see both the dot.bomb crisis and the ongoing financial crisis coming ahead of time - and one of even fewer to help millions of investors around the world successfully navigate them both. Forbes hailed him as a "Market Visionary." He is a regular on FOX Business News and Yahoo! Finance, and his observations have been featured in Bloomberg, The Wall Street Journal, WIRED, and MarketWatch. Keith previously led The Money Map Report, Money Map's flagship newsletter, as Chief Investment Strategist, from 20007 to 2020. Keith holds a BS in management and finance from Skidmore College and an MS in international finance (with a focus on Japanese business science) from Chaminade University. He regularly travels the world in search of investment opportunities others don't yet see or understand.