The Apple stock price, caught up in the general stock market crash, added to its four-month decline today (Monday) with a drop that pushed its valuation loss to more than $170 billion.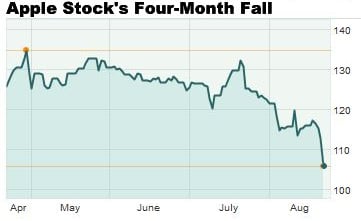 Apple Inc. (Nasdaq: AAPL) stock hit a 52-week high of $134.54 on April 28. Before today's stock market crash, AAPL stock was down $28.78 from that high, more than 21%.
After sinking as low as $92 at the market open – a further 10% drop – the Apple stock price started to rebound.
The steep early drop in Apple stock was one reason why the Dow Jones Industrial Average fell briefly by more than 1,000 points in early trading. AAPL replaced AT&T Inc. (NYSE: T) in the Dow Jones on March 18.
The AAPL stock price spent much of the morning hovering around $104 a share, more than $30 below its 52-week high. That represents a breathtaking market capitalization loss of more than $171 billion.
Viewed another way, Apple in four months has shed the market cap equivalent of a Walt Disney Co. (NYSE: DIS) or a Bank of America Corp. (NYSE: BAC). Both of those companies, by the way, are among the top 30 companies as ranked by market cap.
Meanwhile, Apple's decline has weighed down the Dow Jones index. That 30-point drop in AAPL stock translates to a 200-point drop in the Dow.
While many celebrated the addition of Apple to the Dow Jones, the stock has a long history of volatility. So while AAPL will help push the Dow higher in boom times, it will help drag it lower during downturns.
In the long run, the Apple stock price will recover – eventually reaching $200. But in the short term, we could still see some rough seas ahead.
Follow me on Twitter @DavidGZeiler.
A 25-Year Depression? Jim Rickards, who once served as the CIA's Asymmetric Threat Advisor, for years has been warning Americans about threats to the U.S. economy everyone else has ignored.  In this exclusive Money Morning interview, Rickards explains why these threats could send America into a 25-year depression.  To watch this must-see interview, click here.