Commodity prices just hit their lowest level of the 21st century.
The Bloomberg Commodity Index, which tracks the movement of 22 raw materials and their underlying futures contracts, tumbled 1.5% to 86.96 points this morning (Monday). The index hasn't sunk that low since Aug. 26, 1999, when it hit 86.30.
Here's how the index has trended from 1999 to now: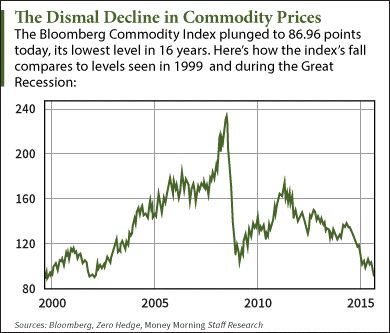 The index's most heavily weighted components are natural gas, crude oil, and gold. Futures for these commodities have fallen 1.5%, 4.4%, and 0.5% since Friday.
"Sentiment is extremely negative across the commodity complex," noted Mark Keenan, head of commodities research for Asia at Societe Generale SA in Singapore, in an e-mail to Bloomberg. "Markets are plagued by concerns of oversupply."
All commodity prices retreated today as investors panic over slowing demand in China. The world's second-largest economy and leading consumer of energy, grains, and metals saw the benchmark Shanghai Composite Index plummet 8.5% on the day. That's China's worst single-day stock market loss since 2007.
The current commodity price crash marks the first significant slump since the peak of the 2008 financial crisis. The commodity index fell nearly 60% during the last half of 2008. Prices have slowly been declining since they hit a post-recession peak in early 2011.
But oil is dragging the index down the most. In fact, Brent oil prices cratered to their lowest levels in over six years this morning.
So what is best for investors to do?
Commodities will be volatile, so know your risk tolerance. But as we have always said, from crisis comes opportunity.
And despite oil's sharp decline, there are still ways to profit from the troubled commodity - if you know how to spot the healthy companies.
Keep reading to learn how to play the recent oil price movement and make money from all the "Black Monday" mayhem...
Alex McGuire is an associate editor for Money Morning who writes about commodity prices. Follow him on Twitter at @AlexMcGuire92 for the biggest commodity updates.
This "Currency War" Could Cause Economic Collapse... On Aug. 11, China surprisingly devalued its yuan currency by 2%. The move marked the biggest one-day devaluation in 20 years. China's central bank said it had "no intention or need to participate in a currency war" - but don't be fooled. The country's "currency war" is one of five dangerous catalysts that could destroy the U.S. dollar and lead to total economic collapse...
Related Articles:
[epom key="af2c76260947049b29e0c934424e4536" redirect="" sourceid="" imported="false"]