For Aug. 24, here's how the Dow Jones Industrial Average did today, earnings reports, top stock market news, and stocks to watch based on today's market moves…
How Did the Stock Market Do Today?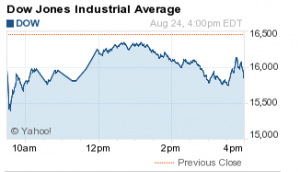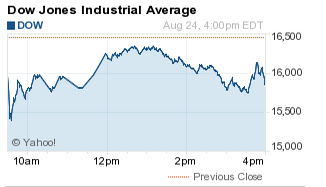 Dow Jones: 15,873.22; -586.53; -3.56%
S&P 500: 1,893.32; -77.57; -3.94%
Nasdaq: 4,526.25; -179.79; -3.82%
The Dow Jones Industrial Average today pared losses after falling 1,089 points this morning – the largest intraday decline in the index's 133-year history. The Dow Jones finished down 586 points on a day that the New York Stock Exchange implemented a little used provision called Rule 48 in order to preempt panic selling and ensure orderly trading in times of extreme volatility.
Investors remain concerned about growth amid a sharp sell-off in tech stocks. Shares of Apple Inc. (Nasdaq: AAPL) fell more than 1.7% after a brief sell-off this morning that saw shares fall to a 52-week low of $92. Apple stock had rallied as high as $108 per share this morning, after the company's CEO Tim Cook told CNBC's Jim Cramer it has seen a boost in iPhone activations in China, where many investors are concerned about the firm's future growth potential.
The S&P 500 Volatility Index (VIX), the market's fear gauge, surged more than 39% on the day. The VIX finished the day at 40, while jumping to an intraday high of 51.
Top Stock Market News Today
Stock Market News: A wild day of price swings sent the Dow Jones down more than 1,089 points in the opening hour, followed by an intraday rally that ultimately gave way to another afternoon sell-off. As Money Morning Chief Investment Strategist Keith Fitz-Gerald explains, the downturn has created an excellent time to go shopping for high-quality dividend-paying stocks. But here are the dangerous "weak-money" stocks he thinks you need to sell right now…
Money Morning Members: Keep reading for more on the historic plunge in the markets today. For those new to Money Morning, sign up to keep reading – it's completely free…