It shouldn't come as any surprise that U.S. stocks went into free-fall mode last week.
The signs were everywhere. I'll prove it to you in a moment.
What's likely to happen next is no less frightening, so investors better look for cover.
But before that happens, I'm going to show you all the telegraphed signs that this was coming and what to look for next.
Then I'm going to show you how to cash in…
Investors Were Only Too Happy to Forget About the Fed
The big, big picture that too many investors lost sight of was that the U.S. Federal Reserve's zero interest rate policy (ZIRP) and massive quantitative easing moves didn't stimulate economic growth.
And it didn't work when the European Union, Japan, and China tried them, either.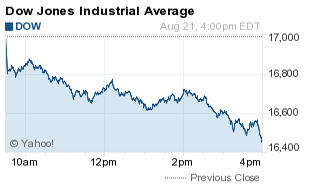 Lower interest rates were supposed to stimulate consumption, production, and gross domestic product (GDP) growth. And they were designed to lift asset prices – in the case of the Fed, this was an articulated policy goal.
In the Federal Reserve's "wealth effect" scenario, consumers would feel better about the economy's prospects (and their own) by watching stock prices rise.
Rising stock prices, fueled by cheap money in the U.S. that financed $2.7 trillion worth of stock buybacks in the past six years, of course lifted share prices and increased earnings per share metrics (because the same or lower earnings are measured against fewer shares).
The one-two punch of corporations buying their shares at ever-increasing prices and better earnings metrics made stocks look better and better to the untrained eye. And that created a "virtuous momentum"-fueled push to higher highs for equity averages.
While other countries were following the Federal Reserve's lead, China not only lowered interest rates but embarked on a debt-fueled stimulus tear – including runaway infrastructure spending.
According to McKinsey Global Institute research, China's total public and private debt burden skyrocketed from less than $7 trillion in 2007 to more than $28 trillion by mid-2014. And still, China's GDP growth has been slipping badly.
The combination of low interest rates diverting investment capital and savings into capital markets, chasing equities and increasingly lower yielding fixed income securities, and China's stimulus efforts to increase infrastructure, manufacturing, and its exports, which led to over production and stockpiling of commodities, brought us to this point.
That's a big, big picture I just painted, of course. But beneath that, mechanical realities were signaling trouble.
The price of oil has been sliding. When the price of the most important commodity in the world starts to slide, it's not just because America's new record production of 10 million barrels a day is tipping the supply side of the equation.
And it's not that other producer countries desperate for revenue (which is another indication of trouble) are pumping furiously.
The price of oil, that critical bellwether, is crashing because global demand hasn't been rising as much as it was, because global growth is slowing. That's been a flashing light.
Join the conversation. Click here to jump to comments…
About the Author
Shah Gilani is the Event Trading Specialist for Money Map Press. In Zenith Trading Circle Shah reveals the worst companies in the markets - right from his coveted Bankruptcy Almanac - and how readers can trade them over and over again for huge gains.Shah is also the proud founding editor of The Money Zone, where after eight years of development and 11 years of backtesting he has found the edge over stocks, giving his members the opportunity to rake in potential double, triple, or even quadruple-digit profits weekly with just a few quick steps. He also writes our most talked-about publication, Wall Street Insights & Indictments, where he reveals how Wall Street's high-stakes game is really played.