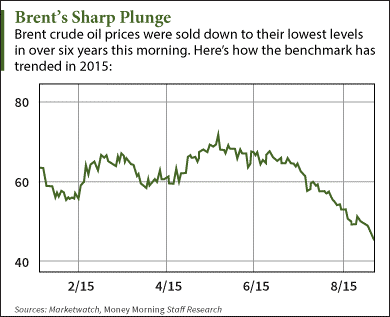 Brent crude oil prices slid into a free fall this morning (Monday) following historic declines in the U.S. and Chinese stock markets. Media outlets are now calling today "Black Monday" after the global sell-off.
At 9:45 a.m., Brent crude oil prices were down 5.57% to $42.93 a barrel. The international benchmark has plummeted 18.8% in August so far. Futures have fallen 38.6% from the 2015 high of $69.94 seen just over three months ago.
WTI crude oil prices fell even more. The U.S. benchmark was down 5.98% to $38.03 a barrel. It has tumbled 20% this month and 34.6% this year.
The fall in the Brent crude oil price followed China's worst single-day loss in more than eight years. The benchmark Shanghai Composite Index fell 8.5% on the day, leaving it down 0.8% in 2015 and down 38% from its mid-June peak.
Since oil is priced in U.S. dollars, imports become more expensive for Chinese consumers when the country's economy weakens. With China consuming about 12% of the world's oil, analysts assert that a collapse in the country's imports would be catastrophic for global oil prices.
Despite today's crash, Money Morning Global Energy Strategist Dr. Kent Moors says oil prices will climb before the end of the year. That's because the worldwide supply glut will recede from shrinking well output, allowing demand to naturally outpace supply.
There are plenty of ways to make money from that long-term picture right now. One way to find the best oil stocks to buy is to target M&A activity...
The low-price environment has primed the oil sector for a wave of mergers, resulting in a new group of heavyweight companies that will lead the market into a "new energy age."
Here's how you can identify those companies likely to benefit from restructuring...
Alex McGuire is an associate editor for Money Morning who writes about oil and natural gas. Follow him on Twitter at @AlexMcGuire92 for the biggest energy updates.