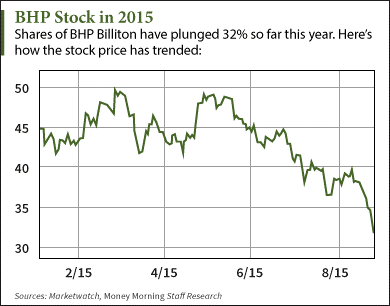 Australian oil and mining giant BHP Billiton Ltd. (NYSE ADR: BHP) reported earnings yesterday (Monday) for the full year ending in June 2015. The company posted its weakest annual earnings since 2003 in the face of a painful commodity price rout.
BHP Billiton profits were $1.91 billion for its fiscal year 2015. That's an 86% nosedive from $13.8 billion the previous year. Revenue fell 22.2% to $52.3 billion.
The decline in BHP Billiton profits resulted from weakening Chinese demand for commodities, which continues to send commodity prices crashing. BHP Billiton earnings came on the same day the entire commodity complex hit its lowest level since 1999.
As the world's foremost producer of iron ore, coal, and steel, BHP Billiton is one of many global businesses exposed to the market chaos in China. According to financial firm UBS, the mining company relies on China for about 30% of its revenue.
Although it currently trades at a discount price of $33 a share, BHP stock is not a buy. The company's broad exposure to the volatile commodities sector makes it an extremely risky investmenat right now.
The best profit plays are in oil rather than general commodities. That's because oil prices will stabilize by the end of the year thanks to a wave of M&A among energy firms.
Here's why oil is offering strong investments now, and the two best oil stocks to buy now as the sector adjusts to the new wave of consolidation...
Alex McGuire is an associate editor for Money Morning who writes about commodity prices. Follow him on Twitter at @AlexMcGuire92 for all of the biggest commodities updates.
Like us on Facebook: Money Morning