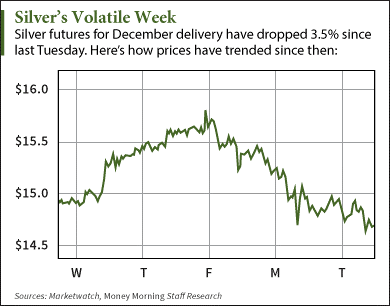 Silver prices today (Tuesday) continued their three-day losing streak despite a rebound in U.S. stock markets following "Black Monday."
At 1:35 p.m., silver prices were down 0.76% and trading at $14.69 per 5,000 troy ounces – the amount traded on futures contracts.
The silver price reached an August high of $15.59 last Thursday. The boost came on news that the Federal Open Market Committee would likely avoid hiking interest rates next month.
Since then, silver prices have fallen as U.S. and Chinese stock markets reel from their largest sell-offs in years.
The Dow Jones Industrial Average plunged 6.6% total during Friday and Monday's sessions. Yesterday, the Dow Jones immediately fell 1,089 when markets opened – the biggest intraday decline in the history of the index. China's Shanghai Index has crashed 15.5% just this week alone.
But major U.S. indices rallied today following yesterday's "Black Monday" drop. At 1:35 p.m., the Dow, Nasdaq, and S&P 500 were up 1.3%, 2.1%, and 1.3%, respectively.
Despite volatility in the commodities sector, physical silver is still an attractive long-term investment.
You see, many traders don't realize that silver isn't meant to be played for explosive gains. In general, bullion is meant to diversify your portfolio and provide an asset uncorrelated to broader market volatility.
That makes silver a healthy investment regardless of where the price goes. Buying physical silver is also less risky than trading future contracts on your own as a speculator.
Last month, Money Morning Resource Specialist Peter Krauth outlined a number of ways you can play silver prices today.
Keep reading for a closer look at why you should invest in silver right now…
Follow us on Twitter at @AlexMcGuire92 and @moneymorning.