The Dow swung more than 1,000 points in each direction over the course of trading yesterday. The market chaos started in Asia and spread to the United States as the day went on.
That the markets plunged that far in the first place is a sure sign that panic is definitely setting in. I'd be lying if I said I didn't feel the angst just like you do. You're not alone.
But here's the thing. Unlike most investors who are going to let panic take over, we know that the first step in building wealth is to take emotion out of the equation. And, instead, to focus on navigating the situation:
No investor ever has to suffer the ravages of a bear market if they're prepared; and,
There is always opportunity in chaos if you know where to look.
So today, let's talk about how you do that and, as usual, take a quick look at three specific investments you can put to work immediately if the U.S. markets fall further or if China's markets have not yet bottomed.
Here's how to protect yourself from a market correction – and make a profit when everybody is losing.
First, This Isn't a "Crash"
Most investors throw the word "crash" around like candy without bothering to understand what it really means. Not surprisingly, they get caught up in the moment and make a slew of bad decisions as a result.
A true market crash is something you don't need to spend a lot of time on because there will be nothing you can do about it. I don't want to make light of the situation, but I want to put the term in perspective.
Examples include 9/11 and Black Friday on Sep. 24, 1869, when Jay Gould tried to corner the gold market with James Fisk. Even the Kipper und Wipper of 1623 caused by the fraudulent debasement of currency in connection with the Thirty Years War qualifies.
When stuff like that happens, you have bigger problems… like how you're going to put food on the table. They are true economic disasters.
Again, I'm not trying to make light of the situation we're dealing with this week. The Fed has failed the markets and big down days feel terrible. It's hard to see red across the board when you look at your statements.
A day or two of bad trading, or even a few months of nasty stuff, do not qualify as a crash. It's a correction and it's normal. You want the markets to periodically scare the weak money out for the simple reason that chaos always creates opportunity.
You have to have lower prices before you have higher prices. That's why "buy low and sell high" is what it is… the true path to profits.
Let me prove it to you with a simple chart.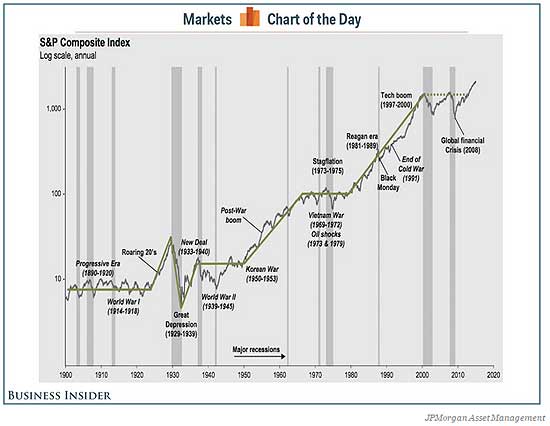 War, famine, recession, assassination, global terrorism… they're all terrible and, over time, they all fade into history's rearview mirror.
It's what you do in the meantime that will keep you on top…
Join the conversation. Click here to jump to comments…
About the Author
Keith Fitz-Gerald has been the Chief Investment Strategist for the Money Morning team since 2007. He's a seasoned market analyst with decades of experience, and a highly accurate track record. Keith regularly travels the world in search of investment opportunities others don't yet see or understand. In addition to heading The Money Map Report, Keith runs High Velocity Profits, which aims to get in, target gains, and get out clean, and he's also the founding editor of Straight Line Profits, a service devoted to revealing the "dark side" of Wall Street... In his weekly Total Wealth, Keith has broken down his 30-plus years of success into three parts: Trends, Risk Assessment, and Tactics – meaning the exact techniques for making money. Sign up is free at totalwealthresearch.com.