For Aug. 26, here's how the Dow Jones Industrial Average did today, earnings reports, top stock market news, and stocks to watch based on today's market moves…
How Did the Stock Market Do Today?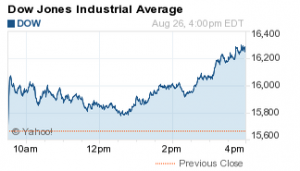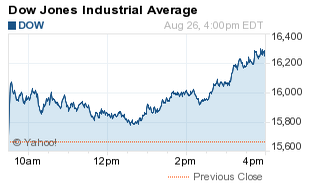 Dow Jones: 16,285.51; +619.07; +3.95%
S&P 500: 1,940.51; +72.90; +3.90%
Nasdaq: 4,697.54; +191.05; +4.24%
The Dow Jones Industrial Average today gained 619 points, bouncing back from yesterday's record-breaking sell-off and marking the largest one-day leap since November 2011. The Nasdaq surged more than 4.2% thanks to a massive jump in shares of Google Inc. (Nasdaq: GOOG, GOOGL). This morning, an upgrade by Goldman Sachs Group Inc. (NYSE: GS) to the investment firm's "conviction buy" list sent Google stock surging more than 7.7%. Goldman set Google's price target at $800 per share, a 28% premium over today's closing price.
The S&P 500 Volatility Index (VIX), the market's fear gauge, fell 16% on the day.
 Today's Top Stock Market News
Stock Market News: Gold prices today fell more than 1.5% as U.S. equities climbed. The markets surged despite another volatile trading session in China this morning. Positive economic data provided some relief for weary traders and expectations that the U.S. Federal Reserve will raise interest rates continue to fade. In a speech today, New York Fed President William Dudley said the argument for a September rate hike seemed "less compelling" than sentiment was just two weeks ago. Meanwhile, William Strauss, Senior Economist and Adviser to the Chicago Federal Reserve, said during an investment conference that Chicago Federal Reserve Bank President Charles Evans and his team of economists do not wish to rush an interest rate hike next month.
Oil Moves: Domestic WTI oil prices remain near six-and-a-half year lows. WTI crude prices dipped nearly 1% to reach $38.92 per barrel. Meanwhile, Brent oil prices added 0.8% to $43.56 per barrel. Money Morning Global Energy Strategist Dr. Kent Moors anticipates that oil prices will rise in the fourth quarter as merger and acquisition activity picks up over the rest of 2015.
Money Morning Members: Keep reading for more on today's big market gains. For those new to Money Morning, sign up to keep reading – it's completely free…