New IPOs have underperformed during the recent stock market sell-off.
The Renaissance IPO Index, which reflects the largest new IPOs based on market cap, fell 5.6% last week compared to the S&P 500's 4.3%. The index is down 3.1% this week alone.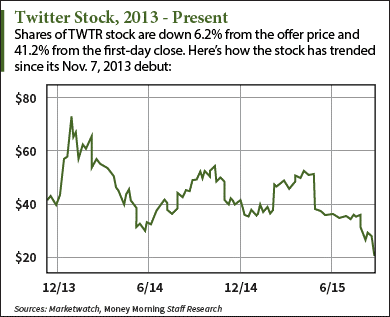 Many of the largest IPOs in the last few years have been crushed by the market turmoil.
Last Thursday, Twitter Inc. (NYSE: TWTR) traded below its $26 offer price for the first time since its November 2013 IPO. Alibaba Group Holding Ltd. (NYSE: BABA), which had the largest U.S. IPO ever in September 2014, opened 13.4% below its $68 IPO price on Monday.
According to Renaissance Capital, a manager of IPO-focused ETFs, just 53% of 2015 IPOs were trading higher than their offer prices as of Aug. 21. That metric could sink to 50% if the Dow Jones, S&P 500, and Nasdaq don't fully recover within the next few days.
There have been only 10 new IPOs in August so far. Of those, only six are trading above their offer price.
The lull in IPO activity should end after Labor Day as a backlog of high-profile companies like Neiman Marcus and Ferrari plan on hitting the market by the end of 2015.
Companies planning an IPO may decide to wait until later in the year when the volatility has subsided.
But we recommend waiting until after a new IPO to consider investing any news stocks. That's because retail investors are at a disadvantage during the IPO process.
You see, IPOs only benefit institutional investors willing to buy large quantities of a stock before its debut. These hedge funds and investment banks provide the companies triple-digit gains on their first day of trading. That can lead traders to believe they can snag major profits if they jump in right away.
Frequently, new investors rush into a stock after the IPO when the share price has already surged during initial trading. At that point, they're buying in at an inflated price and missing out on the gains the Wall Street "VIPs" already snagged.
When the price falls after the initial frenzy, retail investors who aren't in the "VIP club" see huge losses.
But according to Money Morning Chief Investment Strategist Keith Fitz-Gerald, there are still a few ways to profit from the new IPOs coming this year.
Here are the three best strategies to playing the IPO market...
Follow us on Twitter at @AlexMcGuire92 and @moneymorning.