Apple stock formed a bearish "death cross" pattern in its chart yesterday (Wednesday), giving Wall Street one more thing to worry about.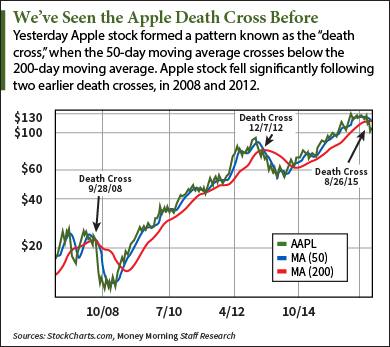 Apple Inc. (Nasdaq: AAPL) stock ended the day up 5.74% at $109.69, but is still down 18.5% from its 52-week high of $134.54 reached April 28.
Technical analysts see a death cross as a signal that a short-term drop is about to become a long-term slump.
So what exactly is a death cross?
A death cross is simply when the 50-day moving average crosses below the 200-day moving average. Investors hate to see a death cross because it's generally pretty accurate.
For example, the Dow Jones Industrial Average chart formed a death cross on Aug. 11. The Dow Jones shed 11% over the next two weeks. (That was before yesterday's dramatic 619-point increase.)
As for AAPL stock, it has seen the death cross before. The last two occasions were in 2008 and 2012.
How Apple Stock Has Fared After a Death Cross
After Apple stock formed a death cross on Sept. 23, 2008, it plunged 38% over the following four months.
More recently, Apple stock formed a death cross on Dec. 7, 2012. Over the next four months, the AAPL stock price fell 27%.
Does that mean Apple stock could see a 25% to 30% drop now? Here's the thing…