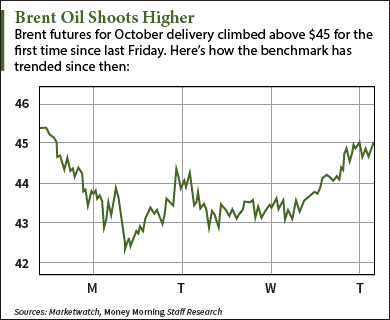 The Brent crude oil price surged today (Thursday) as stock markets rallied for the second consecutive trading session.
At 10:05 a.m., the Brent crude oil price ticked up 4.4% to $45.02 a barrel. The international benchmark has traded below $45 during the last three sessions. Since Friday, Brent crude oil prices have rallied 2.6%.
The WTI crude oil price jumped even higher this morning. The U.S. benchmark gained 4.6% to trade at $40.38 a barrel. Futures have rebounded 6.1% from Monday's six-year low.
Today's rise in the Brent crude oil price comes as major U.S. and Chinese indices continue yesterday's historic rebound.
The Dow Jones Industrial Average opened up 1.5% higher today after skyrocketing 619 points yesterday. That was the largest single-session jump since November 2011. The S&P 500 is up 1% so far today, with the energy sector leading the index with a 4.6% gain. In China, the Shanghai Composite Index closed up 5.4% today to break a weeklong streak of losses.
But oil isn't the only commodity that was crushed by the stock market sell-off. In fact, the entire commodity complex hit its lowest level of the 21st century on Monday.
The Bloomberg Commodity Index, which tracks the futures contracts of 22 raw materials, sunk to its lowest level since Aug. 26, 1999.
This chart shows how the "Black Monday" commodities crash compares to levels seen in 1999 and 2008...
Alex McGuire is an associate editor for Money Morning who writes about commodity prices. Follow him on Twitter at @AlexMcGuire92 for the biggest commodity updates.
Like us on Facebook: Money Morning.