For Aug. 27, here's how the Dow Jones Industrial Average did today, earnings reports, top stock market news, and stocks to watch based on today's market moves…
How Did the Stock Market Do Today?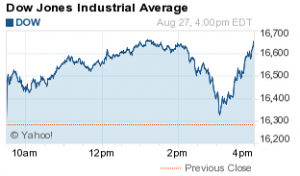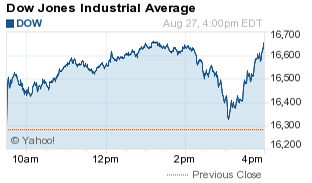 Dow Jones: 16,654.77; +369.26; +2.27%
S&P 500: 1,987.66; +47.15; +2.43%
Nasdaq: 4,812.71; +115.17; +2.45%
The Dow Jones Industrial Average today surged in the final 30 minutes of trading to finish up more than 369 points. Markets moved higher as a revision of second-quarter GDP showed the economy may be much stronger than previously reported and concerns over the Chinese stock market faded. The U.S. Commerce Department reported that between April and June, GDP grew at 3.7%, much higher than the 2.3% it had reported last month.
Many investors are now asking a very important question: Is this stock market correction over? Money Morning Capital Wave Strategist Shah Gilani warned on FOX Business' "Varney & Co." that the sell-off might not be over quite yet. Watch the interview here.
The S&P 500 Volatility Index (VIX), the market's fear gauge, dipped another 12.1% on the day as concerns about the broader markets faded.
Top Stock Market News Today
Stock Market News: U.S. stock markets continued their recovery on Thursday as investors reduced concerns about the Chinese stock markets and rallied around positive growth in the U.S. economy during the June-ending quarter. Meanwhile, the U.S. Federal Reserve kicked off its annual Jackson Hole Symposium, the event where the central bank plans its final four months of the year. Federal Reserve Chairwoman Janet Yellen is not attending the event, which signals the central bank is unlikely to dive deeper into consideration about a potential interest rate hike until the September FOMC meeting.
Money Morning Members: Keep reading for more on today's top stock market news. For those new to Money Morning, sign up to keep reading – it's completely free…