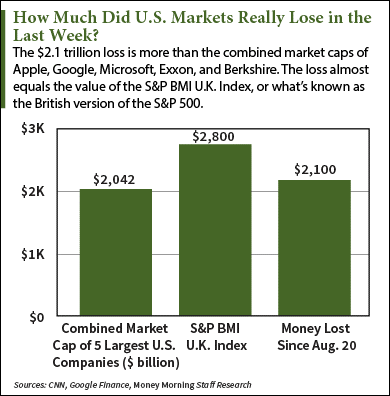 If there's one number that summarizes the stock market correction over the last week, it's $2.1 trillion.
That's the amount of money U.S. markets have lost in just the last six days.
To put it in perspective, that's more than the combined market caps of the five largest U.S. corporations. They are Apple Inc. (Nasdaq: AAPL), Google Inc. (Nasdaq: GOOG, GOOGL), Microsoft Corp. (Nasdaq: MSFT), Exxon Mobil Corp. (NYSE: XOM), and Berkshire Hathaway Inc. (NYSE: BRK.A, BRK.B), respectively. Those five companies have a combined market cap of just $2.04 trillion.
According to CNN Money, losing $2.1 trillion is equal to erasing 75% of the British version of the S&P 500. The benchmark, called the S&P BMI UK Index, is worth a total of $2.8 trillion.
The Dow Jones Industrial Average saw the biggest losses earlier in the week. The index plummeted 1,089 points in early trading Monday. It then saw the largest one-day reversal in seven years on Tuesday, crashing 205 points in the final 30 minutes of trading after being up 117 points earlier in the day.
Although the Dow is rebounding today, Money Morning Capital Wave Strategist Shah Gilani says the sell-off might not be over quite yet.
"That down draft was quite frightening," Gilani said on FOX Business' "Varney & Co." today. "We've got a long way to go before we clear the air here."
This kind of volatility can set investors up for hefty losses. But you can still hold onto your wealth if you follow a disciplined strategy.
Here are three of our Money Morning Editors' favorite strategies for holding on to your money during a brief stock market crash...
Follow us on Twitter at @AlexMcGuire92 and @moneymorning.