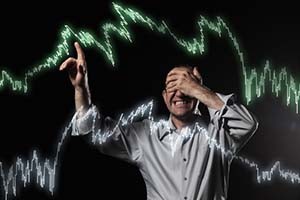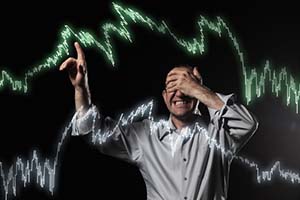 U.S. markets this week have painted the perfect picture of volatility.
But exactly what does stock market volatility mean for investors?
Put simply, volatility is the amount of uncertainty about the size of changes in the stock market.
A higher volatility means stocks' values can be spread over a larger range -- in other words, an index or stock price can change radically over a short time period, either up or down. That's risky.
Alternatively, lower volatility means that stocks' values don't greatly fluctuate. Rather, their values change at a steady pace over time, which is much less risky.
Let's take a look at what happened this week as a case of high volatility:
Monday capped off the worst three-day point decline in the Dow Jones Industrial Average's 133-year history. That morning, the index fell 1,089 points for its largest-ever intraday decline. The DJIA ultimately pared its losses, but still finished down a dismal 586 points (-3.57%), for a total three-day loss of 1,477.38 points (-8.52%).
On Tuesday, a "Black Monday" rebound saw the Dow climb as high as 441.5 points. However, in the final 30 minutes of trading, it cratered to end down 204.91 points (-1.35%). That's the Dow's largest one-day reversal in seven years. In total, the index traveled 1,600 points in the session, adding to the 4,900 points it had traveled in down and up moves on Monday.
Then a dramatic swing in the opposite direction happened on Wednesday. The Dow Jones soared 619 points (+3.95%), marking the largest one-day leap in four years.
That's a departure from the Dow's sleepy performance in times of lower volatility, when the index typically swings less than 1% up or down each day.
And it means investors this week watched U.S. markets lose $2.1 trillion since Aug. 20. That's more than the combined market cap of the five largest U.S. companies -- $2.04 trillion for Apple Inc. (Nasdaq: AAPL), Google Inc. (Nasdaq: GOOG, GOOGL), Microsoft Corp. (Nasdaq: MSFT), Exxon Mobil Corp. (NYSE: XOM), and Berkshire Hathaway Inc. (NYSE: BRK.A) together. On just Monday and Tuesday alone, it lost $900 billion.
It's no wonder investors instinctively panic when volatility is high. Remember the iconic bank runs following the stock market crash of 1929? Or, more recently, the bank runs in Greece?
But the truth is, investors should try to ignore the urge to pull out of the markets in times of stock market volatility.
"Running for cover may feel good in the short term, but doing so is totally counterproductive to building wealth," Money Morning Chief Investment Strategist Keith Fitz-Gerald warned readers on "Black Monday," Aug. 26.
You see, sell-offs like this week's are not only survivable -- they are profitable. Lower your exposure to volatility and position your portfolio for the inevitable rally back to the top using these five strategies...
Tweet the author @TaraKateClarke, or leave a comment on Money Morning's Facebook page.