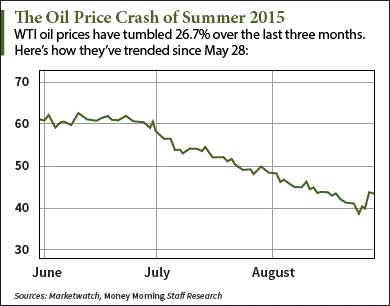 The oil price crash of 2015 has seen the WTI crude oil price plummet 26.7% since May 28.  The U.S. benchmark has fallen 10% this month alone.
The two biggest reasons we've had an oil price crash are a worldwide supply glut and weakening Chinese economy.
Brent crude oil, the international benchmark, is down 25.8% over the same three-month period. It has also fallen 10% in August.
The oil price crash has presented a huge challenge to oil-rich countries like Iraq, Libya, and Venezuela. Many of their economies make most of their money from oil export revenue, which drastically decreases during low price periods.
Venezuela is one of the most desperate. In fact, the OPEC country contacted other members yesterday to push for an emergency meeting. The country wants to create a new strategy to stop the oil price rout. Venezuelan energy officials have been in touch with Mohammed al-Sada, Qatar's oil minister and president of the OPEC conference, to offer a plan to defend both prices and market share.
Members of the cartel are mainly concerned with Russia's cooperation. Russia stated at the June OPEC meeting that it will not heed the cartel's call to cut its own production. Officials from OPEC's power center, which includes Saudi Arabia and Kuwait, said having an emergency meeting would be futile considering Russia isn't willing to cooperate.
"Venezuela is genuinely concerned that if no action is taken prices are going to drop further," an OPEC delegate told The Wall Street Journal. "They also understand that OPEC alone cannot help much and there is a need for cooperation with producers outside OPEC, mainly Russia."
Alex McGuire is an associate editor for Money Morning who writes about commodities. Follow him on Twitter at @AlexMcGuire92 for the biggest commodity price updates.
You'll never guess the No. 1 oil producer in the world… If there's one number that summarizes the global oil market, it's 93,002,710. That's how much oil was produced around the world every day last year. This chart show how much the top 15 oil-producing countries generated in 2015…
Related Articles: