The Alibaba stock price has dropped 13.6% in the last month and is now down nearly 35% in 2015.
Today (Monday), shares of Alibaba Group Holding Ltd. (NYSE: BABA) were trading just above $67, meaning BABA stock is now below its $68 IPO price.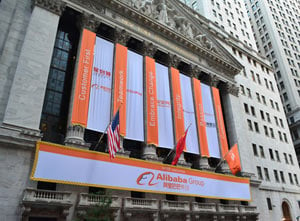 While many investors are worried about the Alibaba stock price, this is actually an excellent time to buy BABA shares. You see, Alibaba shares have been the subject of serious market overreaction.
Investors around the world are worried about the Chinese economy and are selling shares of Chinese companies at an alarming rate.
Shares of Alibaba's competitor JD.com (Nasdaq: JD) have performed even worse lately, down 21% in the last month. Baidu Inc. (Nasdaq: BIDU), the "Google of China," has seen its stock drop 13.3% in the last month. The "Twitter of China," Weibo Corp. (Nasdaq: WB), has posted a loss of 12.5% in August.
Regardless of the company's performance, investors are selling Chinese stocks in a panic.
That is especially true with Alibaba stock. In Alibaba's last earnings report on Aug. 12, the company reported an earnings beat and revenue growth of 28%. They also reported year-to-date profits of $4.97 billion, which was up 148% year to date.
Mobile figures, which have become some of the most important metrics for the company, were also impressive. Mobile transactions now account for 55% of Alibaba's total transactions. That was up from 51% last quarter and 33% last year.
Alibaba now has 307 million mobile users. That's up 63% from last year, and it's almost equal to the entire population of the United States.
And those growth numbers are just one of the reasons we're bullish on Alibaba stock now.