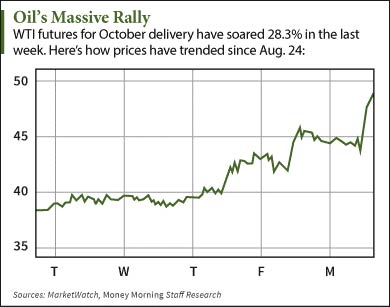 WTI crude oil prices skyrocketed today (Monday) after a bullish supply report from the Energy Information Administration (EIA) and a new announcement from OPEC regarding low oil prices.
WTI crude oil prices soared 7.54% to settle at $49.20 a barrel. That marks the highest settlement since closing at $51.05 on July 21. The U.S. benchmark had a wild ride in August, falling 20% during the first three weeks and gaining 29.3% since last Monday. The WTI crude oil price has jumped a total of 3.5% this month.
Brent crude oil prices gained 7.2% and traded at $55.39 a barrel today. The international benchmark has soared 25.1% in the last week and 2.1% in August.
Today's rise in WTI crude oil prices came after the EIA released a monthly oil supply report for June. The agency said that U.S. oil output in June fell 1.1% to 9.3 million barrels a day in June.
OPEC also released a bulletin today expressing concerns over the recent plunge in oil prices. The cartel said it's ready to cooperate with "all other producers," boosting expectations that the organization might be willing to cut output.
"Today's continuing pressure on prices, brought about by higher crude production, coupled with market speculation, remains a cause for concern for OPEC and its members -- indeed for all stakeholders in the industry," OPEC said.
Follow us on Twitter at @AlexMcGuire92 and @moneymorning.
Make Money in the Next Round of Oil M&A: When oil prices are north of $70 to $75 a barrel, the normal practice for many U.S. oil companies is rolling forward debt used for operating expenses. These days, with crude oil prices at less than $45, all bets are off. But that means huge potential profits in M&A...