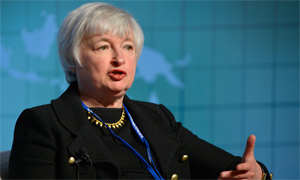 Updated Sept. 4: The August jobs report released this morning (Friday, Sept. 4) revealed a U.S. unemployment rate at a seven-year low. It fell to 5.1% from 5.3%.
The U.S. economy added 173,000 jobs last month. However, this amount was fewer than expected. Wall Street was hoping for a jobs increase of around 217,000, according to Bloomberg. So, while an increase did indeed happen, it wasn't what economists had hoped for.
So what does all this information mean when it comes to the Fed raising interest rates?
Will the Fed Raise Interest Rates? "Beware Overconfidence"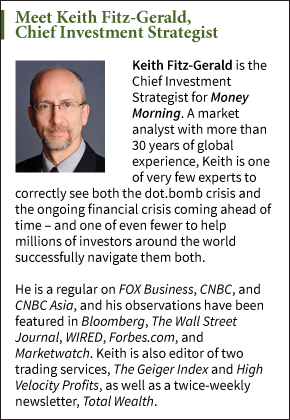 "Throughout the recovery, hourly wages have grown at roughly a 2% annual pace," reported The Washington Post on Sept 4. "[This is] well below the 3% or 4% clip that Fed Chair Janet Yellen has identified as being optimal."
Still, workers are seeing fresh buying power because prices nationwide have been slow to rise. Overall, consumer prices have remained stable this year. This is chiefly due to falling commodity prices such as oil.
For the most part, the August jobs report paints an image of the American economy on the up-and-up, albeit slowly.
But Money Morning Chief Investment Strategist Keith Fitz-Gerald – a 33-year seasoned market analyst – has seen many times what an overly optimistic jobs report can do.
Fitz-Gerald warned against economists' overconfidence in the numbers. He explained that it's more important to look at the anecdotal evidence. "It tells us that the economy is actually flat right now (if not slightly in decline). Wages are flat and Middle America 'has been eviscerated.' Inflation exists everywhere except, evidently, where the Fed is looking," Fitz-Gerald noted. "My breakfast costs 60% more than it did a few years ago."
So, in short, Fitz-Gerald cautions investors against following and acting upon Wall Street's reported trends; instead, he advises them to look instead at their own environment and their own buying experiences.
The Bottom line: If you, like Fitz-Gerald, don't feel the positive vibe from the August jobs report that all the mainstream economists are feeling, then you may be wondering what to do with your investments. Keith offered three suggestions for investors to consider during this time of volatility and unease:
Step back and take a breath. The Fed has been flying by the seat of its pants since the crisis began. That makes anything they have to say suspect... especially now.
Have a short list of companies you want to buy if they're put "on sale." You can find recommendations to get you started here…
Mind your risk. The last thing you want right now is to get caught by surprise if the Fed does or says something stupid (which, given their track record) is almost a foregone conclusion.
Find us on Twitter @moneymorning.
You're Retired! On Aug. 26, Donald Trump visited Bloomberg's "With All Due Respect" to discuss his fiscal ideas for America. We were surprised about some of the strategies Trump had up his sleeve – including his thoughts on Medicare and Social Security. Here are more of "The Donald's" fiscal policies from this revealing conversation…
Related Articles: