Make no mistake about it: A stock market crash happened last Monday.
And it was terrifying.
It was frightening.
Stocks bounced on Wednesday and Thursday, with the Dow Jones Industrial Average gaining back more than 1,000 points.
Now investors want to know: Was last Monday's doubling over a below-the-belt hit?
Was Tuesday's cheap shot just a phantom blow?
Was the rally back Wednesday and Thursday an "all clear" signal?
Was Friday's action indicative of anything?
Here's the truth about last week, what's going to happen next, and what you should do...
Setting the Scene for the Stock Market Crash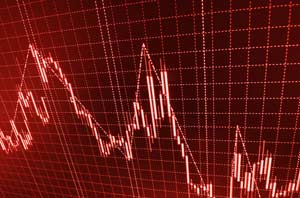 Let's look at the market conditions heading into last week.
Stocks had been weak. It had been hard to tell from the sideways action exhibited by the major averages, but beneath the headline numbers, more than half of all stocks were trading below their 50-day moving averages.
Indeed, even before Monday's tumble, a lot of stocks had dipped below their 200-day moving averages.
While being above a 50-day moving average (the average price a stock has been trading over the past 50 days) is a positive sign - and falling below a 50-day average is a warning sign - share prices breaking below their 200-day moving average is a flashing red light.
Red lights are now everywhere.
There had been profit-taking toward the end of the previous week. That tipped the balance between investors thinking we would break higher from the sideways trend and investors who saw lackluster action as a reason to take profits off the table.
With bulls and bears facing off in this sideways market, the backstory had become China.
Economic growth in China has been slowing, and Chinese stocks had been getting killed. When U.S. investors woke up last Monday morning and saw the Shanghai Composite Index down 8.5%, they panicked.
Speculators, sensing the market's weakness going into the previous weekend and seeing Chinese stocks collapsing before U.S. markets opened last Monday, shorted Standard & Poor's 500 Index futures at a furious pace. Institutional money managers didn't hesitate to jump on the bandwagon. Before markets opened, the futures rout indicated that the bellwether Dow Jones would open more than 1,000 points down.
And that's what happened. At the open, the Dow dropped more than a 1,000 points for the first time in history. But what really happened was worse.
Much worse.
Last Monday's market plunge started out as a story about China, but ended up being about the mispricing of exchange-traded funds (ETFs) and mutual funds and stop-loss orders getting triggered when they shouldn't have been. It's about how high-frequency traders have turned exchanges into casinos, how the markets are truly broken, and how it's only a matter of time before they implode and take the economy down with them.
But the bottom line here - the real bottom line - is  all about you and your money...
Join the conversation. Click here to jump to comments…
About the Author
Shah Gilani boasts a financial pedigree unlike any other. He ran his first hedge fund in 1982 from his seat on the floor of the Chicago Board of Options Exchange. When options on the Standard & Poor's 100 began trading on March 11, 1983, Shah worked in "the pit" as a market maker.
The work he did laid the foundation for what would later become the VIX - to this day one of the most widely used indicators worldwide. After leaving Chicago to run the futures and options division of the British banking giant Lloyd's TSB, Shah moved up to Roosevelt & Cross Inc., an old-line New York boutique firm. There he originated and ran a packaged fixed-income trading desk, and established that company's "listed" and OTC trading desks.
Shah founded a second hedge fund in 1999, which he ran until 2003.
Shah's vast network of contacts includes the biggest players on Wall Street and in international finance. These contacts give him the real story - when others only get what the investment banks want them to see.
Today, as editor of Hyperdrive Portfolio, Shah presents his legion of subscribers with massive profit opportunities that result from paradigm shifts in the way we work, play, and live.
Shah is a frequent guest on CNBC, Forbes, and MarketWatch, and you can catch him every week on Fox Business's Varney & Co.