It's a question that often comes up in times of market turbulence: "What is a death cross?"
Traders consider the death cross a bearish indicator. In the simplest of terms, a death cross is when the 50-day moving average passes below the 200-day moving average on a stock chart.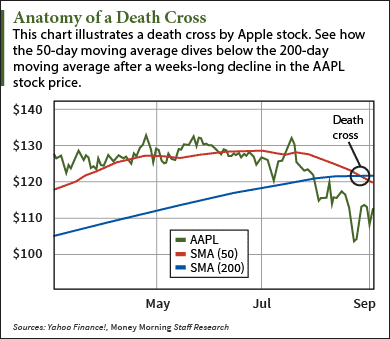 A "moving average" is just that – every day, the average price over the previous time period – such as 50 days or 200 days – is calculated and added to the trend line. It allows traders to view the price action of a stock or market index without the "noise" of day-to-day volatility.
The occurrence of a death cross results from a short-term decline deep enough to push the 50-day moving average below the 200-day average, indicating weakness in that stock or index.
That's the simple definition – but we know investors asking "What is a death cross?" need more than that to really understand what the death cross means for stocks…
You see, the foreboding name has made the death cross a favorite of financial news channels and financial headline writers. Whenever one occurs, it is duly noted in the financial media, which tends to spread fear unnecessarily among ordinary investors.
Many technical analysts dismiss the death cross entirely, along with its cousin, the golden cross. (A golden cross is when the 50-day moving average passes above the 200-day average, a bullish indicator.)
While a death cross is not an absolute sign of a stock market crash, investors should not ignore it completely.
To determine how much weight to give to the death cross, investors need to understand what it's really telling us. The answer lies in the historical data.
You won't get that from the talking heads on CNBC, though.
"In all of the death cross commentary I see on television and read on the Internet, there's never any mention of historical performance after a death cross. None! Just a lot of hyperbole about why we should be concerned," said Money Morning Small-Cap Specialist Sid Riggs.
That's why Riggs took it upon himself last October to analyze every instance of both the death cross and the golden cross in the Standard & Poor's 500 Index all the way back to 1950. Here's what he uncovered…