Hillary Clinton Net Worth: In order for a presidential aspirant to be taken seriously by voters in the United States, he or she needs to have just the right amount of money...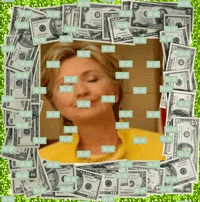 Too much means they're unrelatable; too little means fiscal irresponsibility.
Democratic presidential hopeful Hillary Clinton would like you to think that, when it comes to finances, she's a totally relatable candidate. But in reality, more and more voters have come to the conclusion she's anything but.
Hillary and her husband, former U.S. President Bill Clinton, have a combined net worth of about $32 million (the lowest estimate being $11 million, and the maximum estimate being $52 million), according to a June 15, 2015, article in The Hill. Bill and Hillary also earn about $30 million annually from speaking engagements, book deals, and investments.
Hillary Clinton Net Worth: Putting It into Perspective
In June 2014, Hillary drew a lot of criticism from the voters by claiming she and Bill were "dead broke" when they left the White House in 2001. She made this claim to noted interviewer Diane Sawyer in defense of her $200,000-a-gig speaking fee.
To put Clinton's net worth into perspective, The Washington Free Beacon made a comparison between U.S. Senator and Democratic presidential hopeful Bernie Sanders' 2013 net worth. Hillary Clinton earned $335,000 for speaking at one Qualcomm Inc. (Nasdaq: QCOM) event that year. Meanwhile, Sanders earned $330,507 for the entirety of 2013.
When it comes to campaign numbers, Clinton has raised more than $47.5 million, reported USA Today on Aug. 26. This figure does not include super PAC funding. Hillary has spent nearly $18.9 million of this loot, which is a lot more than the $16.4 million and $4.8 million the Sanders campaign has raised and spent, respectively.
Out of all the presidential candidates, Hillary's estimated net worth ranks third - just behind Carly Fiorina ($59 million) and, of course, Donald Trump ($2.9 billion).
Stay tuned to Money Morning for more on the 2016 presidential election. You can follow us on Twitter @moneymorning or like us on Facebook.
Mike Schmuckabee? He's not as rich as many of his fellow GOP presidential candidates. In fact, former Arkansas Gov. Mike Huckabee is on the lower end of the income spectrum among the likes of Trump, Bush, and Fiorina. But he's not doing too bad either, judging by recent estimates...