The race is on for 2016 presidential candidates. A wide field of 22 hopefuls - 17 Republicans and five Democrats (Vice President Joe Biden is anticipated to make six) - are busy vying for campaign donations.
Many traditional big-time celebrity political donors have not yet made a contribution in 2015. For instance, nothing from actor Morgan Freeman so far, according to a search of the Federal Election Committee (FEC) database. Freeman was the third-largest celebrity contributor in the 2012 election cycle, with more than $1 million given to Hillary Clinton's Priorities USA Action super PAC. And actor husband-and-wife team Tom Hanks and Rita Wilson, the seventh-largest celebrity donors that cycle ($173,231 to Democrats), are also yet to contribute.
But a few others have already picked their candidate favorites in the 2016 presidential race.
Here are ten of the biggest celebrities that have already donated in 2015...
10 Celebrities Who Have Donated to Presidential Candidates in 2015
2016 Presidential Candidates Celebrity Donor No. 1: Eli Manning
New York Giants quarterback Eli Manning is backing former Florida Gov. Jeb Bush (R) in the 2016 presidential race. According to the FEC, the two-time Super Bowl champion donated $2,700 to Jeb Bush's non-profit, "Jeb 2016 Inc."
Forbes reports Manning's total net worth at $23.7 million.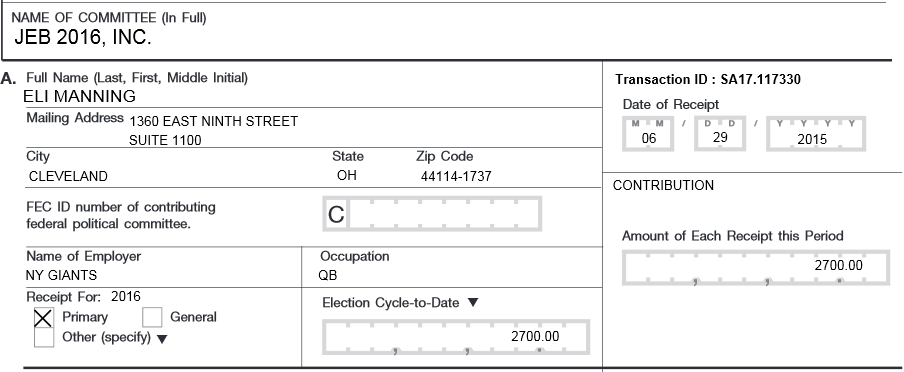 2016 Presidential Candidates Celebrity Donor No. 2: Steven Spielberg
One of the most famed and influential modern Hollywood directors, Steven Spielberg's films have earned $8.5 billion worldwide. This year, he donated $1 million of his earnings to Priorities USA Action - a single-candidate super PAC in support of former U.S. Secretary of State Hillary Clinton.
This was far from Spielberg's first political contribution. In fact, the democrat was the top celebrity contributor in the 2012 presidential race according to OpenSecrets.org. He put up a whopping $1,294,000 in support of U.S. President Barrack Obama.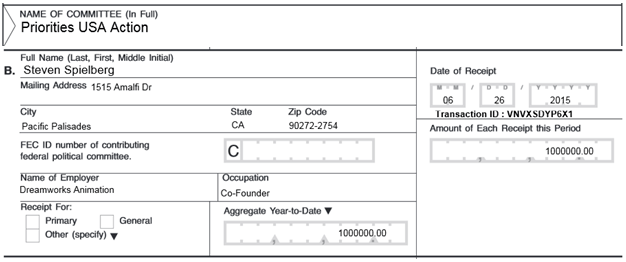 2016 Presidential Candidates Celebrity Donor No. 3: Leonardo DiCaprio
Two-time Golden Globe Award-winning actor Leonardo DiCaprio is a committed environmentalist and avid member of the Democratic Party. He contributed $2,300 to Obama's 2008 presidential race - that year's max amount a single person was allowed donate to a campaign in a single election cycle.
In 2015, he has chipped in $2,700 to Hillary's run.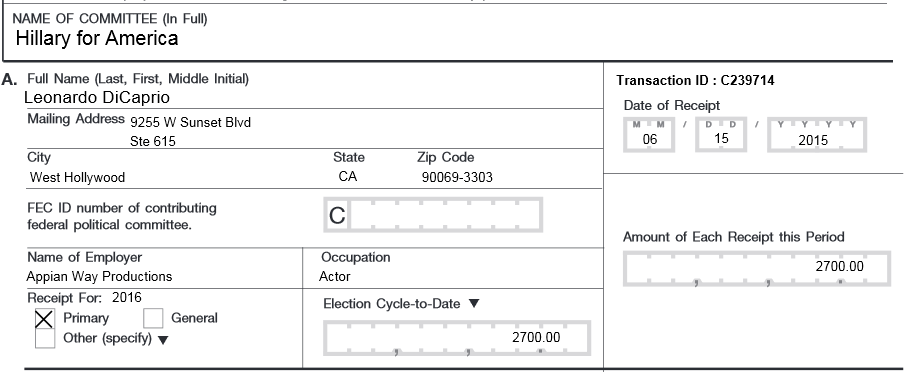 2016 Presidential Candidates Celebrity Donor No. 4: Chuck Norris
Action film hero and martial artist Chuck Norris is in former Arkansas Gov. Mike Huckabee's corner. The "Walker, Texas Ranger" star supported Huckabee in 2008 and is doing so again in the 2016 cycle.
Norris has said he is impressed with the other Republican presidential candidates, but believes Mike Huckabee has an outstanding ability to communicate with both liberals and conservatives.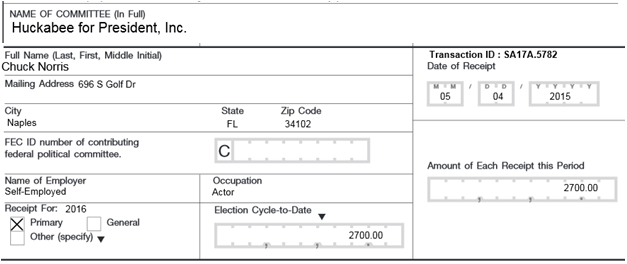 2016 Presidential Candidates Celebrity Donor No. 5: Vince McMahon
Professional wrestling promotor Vince McMahon is the owner, chairman, and CEO of World Wrestling Entertainment (WWE). He's worth a whopping $1.05 billion currently, according to Forbes.
The Republican donated $360,360 in the 2012 election cycle to Restore Our Future, a conservative super PAC in support of Mitt Romney (R). This year, he likes New Jersey Gov. Chris Christie (R). McMahon chipped in $5,000 toward Christie's super PAC Leadership Matters for America.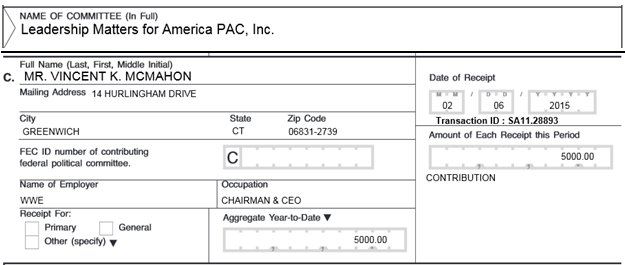 2016 Presidential Candidates Celebrity Donor No. 6: Beyoncé Knowles-Carter
Singer, songwriter, and record producer Beyoncé is one of the best-selling music artists of all time. A 20-time Grammy Award-winner, Forbes recently named her the most powerful female musician of 2015. The site puts her current net worth at $54.5 million.
Beyoncé, along with her famous rapper husband Jay-Z, were active fundraisers for Obama's 2008 and 2012 campaigns. This election cycle, "Queen B's" support is going to Hillary.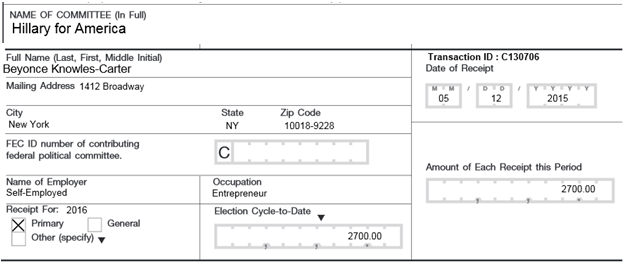 2016 Presidential Candidates Celebrity Donor No. 7: Reese Witherspoon
Hollywood sweetheart Reese Witherspoon's breakout role came in 2001 when she starred in "Legally Blonde." She earned an Academy Award for Best Actress for her portrayal of June Carter Cash in "Walk the Line" in 2005.
The actress donated to Hillary Clinton's Senatorial campaigns in 2003 and 2005, so it'll be no surprise to learn she's donated to the former first lady's presidential run this year.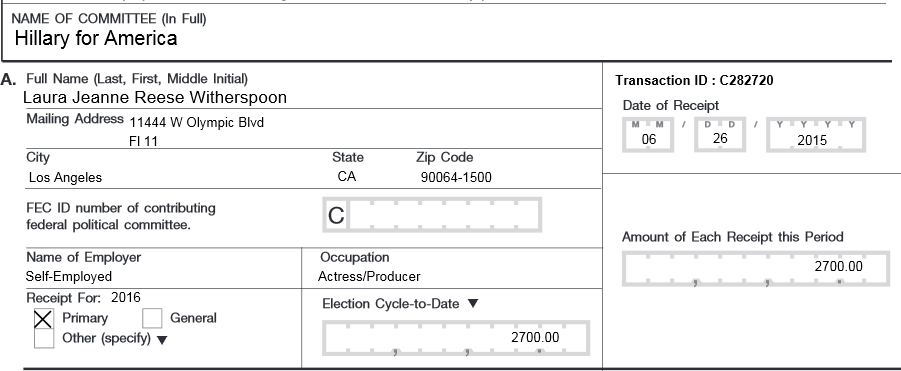 2016 Presidential Candidates Celebrity Donor No. 8: Ben Affleck
Two-time Academy Award-winner ("Good Will Hunting," 1997; "Argo," 2012) Ben Affleck has come out in support of President Obama, John Kerry, and Al Gore in the past. In the 2016 presidential election, he has thrown his support to Hillary Clinton.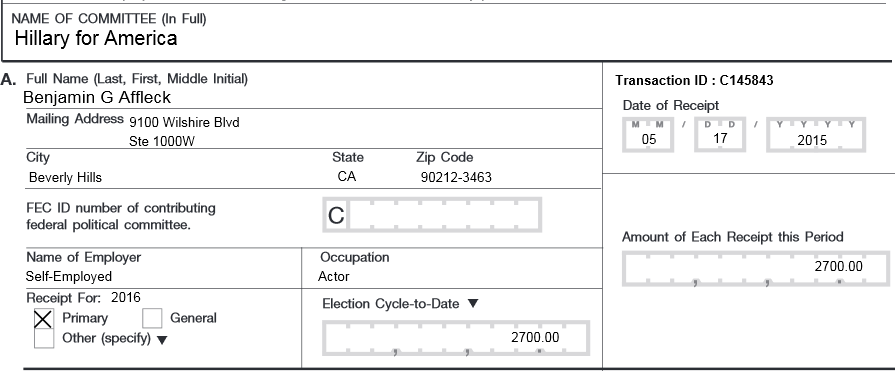 2016 Presidential Candidates Celebrity Donor No. 9: Barbra Streisand
Powerhouse singer and actress Barbra Streisand is known to give away vast sums to Dems every election cycle. She has done so for decades, even in smaller midterm elections.
With an estimated net worth around $340 million, Streisand has donated to Hillary Clinton in 2015.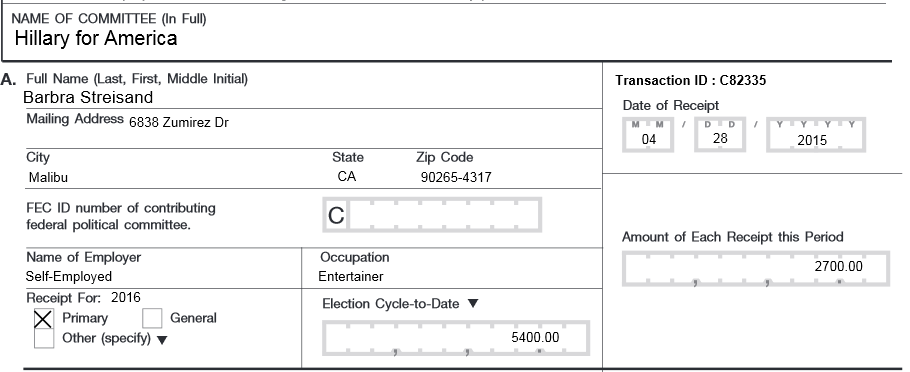 2016 Presidential Candidates Celebrity Donor No. 10: Donald Trump
That's right. The GOP nominee hopeful has made a few political donations himself this year...
Donald Trump gave $5,000 to the South Carolina Republican Party on April 28. And his Manhattan conglomerate The Trump Organization gave $5,000 to the New Hampshire Republican State Committee on April 30 and $9,000 to the Republican Party of Iowa on May 28.
Tweet the author @TaraKateClarke, or leave a comment on Money Morning's Facebook page.
The Politics Behind $250 Million: As of Aug. 31, election campaign contributions for the 2016 presidential election totaled roughly $250 million. That's the amount coming from super PACs, PACs, 501(c) Groups, campaign committees, and more. Here's a breakdown of the cash each candidate has brought in so far from these sources...