The U.S. stock market is closed on Labor Day and has been for 121 years.
It's one of nine holidays each year in which the U.S. market closes or alters its schedule.
Under normal circumstances, the New York Stock Exchange (NYSE) schedule goes from Monday through Friday, 9:30 a.m. to 4:00 p.m. ET. The NYSE Arca exchange is also open from 4:00 a.m. to 9:30 a.m. ET and 4:00 p.m. to 8:00 p.m. Pre-market trading during a normal trading day is from 7:00 a.m. to 9:30 a.m., while after-hours trading occurs from 4:00 p.m. to 8:00 p.m.
Almost all of the U.S. stock exchanges follow the NYSE holiday calendar in regard to days when the market is closed or observing different hours. The NYSE and its affiliated exchanges (NYSE MKT, NYSE Amex Options, NYSE Arca, NYSE Arca Options, and NYSE Bonds) close for a total of nine official U.S. holidays - including Labor Day.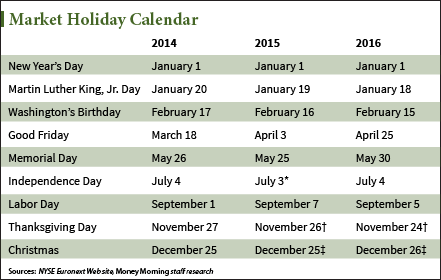 How Labor Day Became a Holiday on the NYSE
Labor Day is celebrated on the first Monday in September. It commemorates the American labor movement - a tribute to the contributions workers have made to the strength and prosperity of the U.S. economy.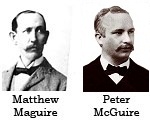 It's unclear who first proposed it as a holiday, but according to some records, the Brotherhood of Carpenters and Joiners General Secretary Peter J. McGuire called for a day to honor those "who from rude nature have delved and carved all the grandeur we behold" in 1882. Other records suggest that Matthew Maguire, a machinist and popular secretary of the Central Labor Union in New York, was the one to first propose the holiday in 1882.
What we do know is that the Central Labor Union and the Knights of Labor - one of the most important American labor organizations of the late 19th century - promoted the holiday with a parade in New York to show "the strength and esprit de corps of the trade and labor organizations."
State governments began recognizing Labor Day starting in 1885. Legislature was first introduced in New York, but you can thank Oregon for being the first state to implement the law in 1887. Four more states that year followed suit (New York, New Jersey, Massachusetts, and Colorado), and over the next 10 years, Connecticut, Pennsylvania, and Nebraska also made Labor Day official.
In 1894, Congress, with the support of U.S. President Grover Cleveland, designated it as a federal holiday - and cemented it forever as a day of closure for the NYSE.
Here are some additional important notes on the NYSE holiday calendar for 2015: