The world is awash in debt, and it's simply unsustainable. As worldwide debt levels keep setting new records, there's no chance anyone will ever be paid back.
Even "vampire squid" Goldman Sachs Group Inc. (NYSE: GS), with its tentacles deep into bond markets, thinks so.
The world's central banks now have an insurmountable dilemma: Raising interest rates will just increase the repayment burden. Keeping them low will only inflate the debt bubbles all over.
The sovereign debt crises we've seen over the last six years have triggered major sell-offs, but odds are high this $200 trillion global problem could start the mother of them all.
But I'm going to show you how to make a killing as the bill comes due...
Government Debt Is the "Bubbliest" of All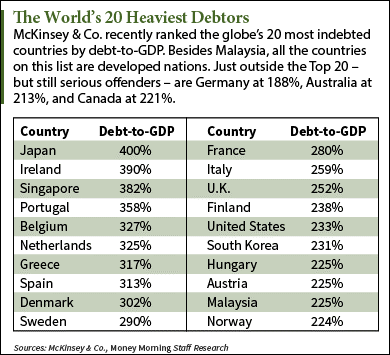 Global debt has mushroomed by $57 trillion since the financial crisis, and that's only up to the end of 2014.
You can see that government debt, mostly accrued in an effort to stimulate the developed world's floundering economies, accounts for the lions' share of this astronomical bill.
One of the most salient points of this chart is that while debt is up by a stunning 40% since 2007, the world has gone from debt at an already massive 246% of GDP in 2000 to 286% of GDP in 2014.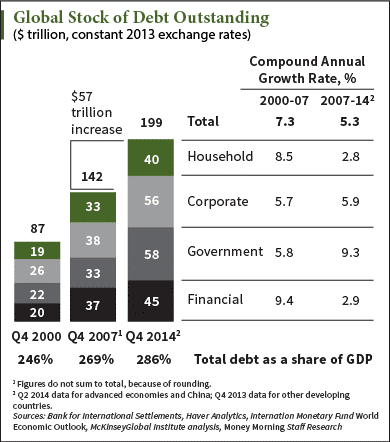 And how have we benefitted? We haven't.
Economic output has clearly not kept pace with all this extra debt.
Even St. Louis Fed Vice President Stephen D. Williamson admitted in a recent white paper that the theory behind quantitative easing (QE) is "not well-developed."
He suggests that empirical support for Bernanke's view on how asset purchases affect outcomes is "mixed at best."
Williamson considers all the relevant research to be problematic and says that "there is no way to determine whether asset prices move in response to a QE announcement simply because of a signaling effect, whereby QE matters not because of the direct effects of the asset swaps, but because it provides information about future central bank actions with respect to the policy interest rate."
No research has established a link between QE and the goal of inflation and the stimulation of economic activity.
Japan is perhaps the best example for this phenomenon, given its head start on multiple lost decades in its stock market and dire demographic outlook.
That was proved when its central bank went "all-in" to once again try and kick start economic activity through a mega-QE program at a mind-blowing pace of $712 billion annually, announced last October.
Sorry, Abe and Kuroda; inflation in your country was still at zero in July over the previous 12 months, well below the official 2% target.
There's No Way to Pay the Debt Back
The world's $200 trillion debt is almost three times annual economic output.
In my view, there is major risk of a knock-on effect from all this accumulating debt. The biggest risk could come in the form of another sovereign debt crisis.
Jeremy Grantham of investment firm Grantham, Mayo, van Otterloo & Co. LLC (GMO), with $118 billion under management, thinks so too.
Grantham gave advance warnings for both the 2000 and 2008 market crashes and thinks the United States is just asking for another such event - as soon as next year.
Join the conversation. Click here to jump to comments…
About the Author
Peter Krauth is the Resource Specialist for Money Map Press and has contributed some of the most popular and highly regarded investing articles on Money Morning. Peter is headquartered in resource-rich Canada, but he travels around the world to dig up the very best profit opportunity, whether it's in gold, silver, oil, coal, or even potash.