Yahoo Inc. (Nasdaq: YHOO) has been planning for a $23 billion Alibaba spin-off, but the company was dealt a major blow by the IRS yesterday.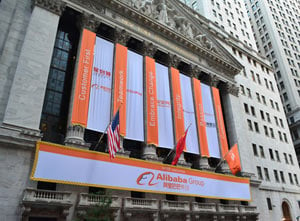 Yahoo officials had planned to spin off 384 million shares of Alibaba Group Holding Inc. (NYSE: BABA) in what would have been a tax-free transaction. However, the IRS informed Yahoo executives yesterday (Tuesday) that the deal would be rejected.
While the deal was rejected, the IRS never explicitly said the deal will be taxable, however.
The Alibaba spin-off was designed to return cash to Yahoo shareholders. Naturally, they have reacted negatively to the rejected spin-off news. Yahoo stock was down 2.2% yesterday and opened at $30.40 today.
Alibaba stock has dropped 38.7% in 2015, greatly reducing the value of Yahoo's Alibaba spin-off. When Yahoo officials first announced the plan for the deal, it would have been worth nearly $40 billion.
Yahoo's General Counsel Rob Bell said in a filing this week that Yahoo "will continue to carefully consider the company's options, including proceeding with the spin-off transaction."
Any taxes placed on the Alibaba spin-off would likely total billions of dollars. That would greatly reduce the amount of cash returned to shareholders.
In 2014, YHOO stock climbed 25.6%. The growth was largely fueled by Yahoo's massive position in Alibaba. But including Tuesday's drop, shares of YHOO are now down 38.5% in 2015 thanks to market volatility and worries about Alibaba.
Follow us on Twitter @KyleAndersonMM and @moneymorning.
Like us on Facebook: Money Morning.
Protect Yourself from a Total Market Collapse: According to CIA Asymmetric Threat Advisor Jim Rickards, there are five "flashpoints" that signal the death of the U.S. dollar and a complete economic collapse in the United States. Here's how you can protect yourself, and your money, before it's too late…