The Tesla stock price is up 1.8% this week after we've received more bullish Tesla stock price predictions.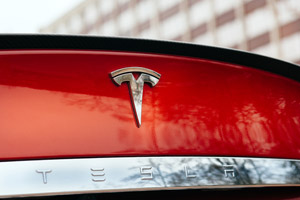 Yesterday (Wednesday), the investment management firm Oppenheimer initiated coverage of Tesla Motors Inc. (Nasdaq: TSLA) stock as an "Outperform." Tesla stock was up marginally in morning trading today (Thursday).
They also set a Tesla stock price target of $340 per share. That would be a gain 37.5% from today's opening price of $247.23.
"We view Tesla as a transformative battery-powered product company with leading expertise in cell design, packaging, associated software, human-machine, and machine-machine interaction design," Oppenheimer analysts said in a note.
That's just the latest bullish Tesla stock prediction. On Aug. 17, Morgan Stanley (NYSE: MS) analysts raised their price target on TSLA shares from $280 to $465.
Tesla shares have outperformed the markets in 2015. Year to date, TSLA shares have climbed 10.7%. In the same time, the Dow Jones has fallen 8.3%, while the Nasdaq is up just 1.3%.
One of the biggest reasons TSLA has outperformed in 2015 is the unveiling of Tesla's new home battery.
Earlier this year, Tesla announced a new line of home units built using the same lithium-ion batteries used in Tesla cars. Different models store either 7 kWh or 10 kWh of solar power. It's a major shift for Tesla, making it more than just a car company.
Wall Street analysts aren't the only ones with bullish Tesla stock predictions. Money Morning experts have been recommending TSLA stock as a great long-term investment for investors who are willing to take on some risk.
And according to our experts, Tesla stock is one of the best long-term investments you can make today...
Follow us on Twitter @KyleAndersonMM and @moneymorning.
Like us on Facebook: Money Morning.
Protect Yourself from a Total Market Collapse: According to CIA Asymmetric Threat Advisor Jim Rickards, there are five "flashpoints" that signal the death of the U.S. dollar and a complete economic collapse in the United States. Here's how you can protect yourself, and your money, before it's too late...