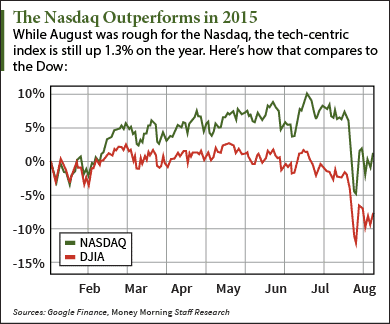 Since reaching an all-time high of 18,351.36 on May 19, the Dow Jones Industrial Average has dropped 10.2%. That puts us in stock market correction territory.
But tech stocks are actually outperforming. The Nasdaq Composite is still up 1.3% on the year, despite slipping 7.9% since hitting a high in July.
The Nasdaq's recent fall means there are some hot tech stocks to buy at bargain prices. Buying today means you'll capture long-term upside when markets rebound. But with more volatility ahead first, how do you know which are the best tech stocks to buy now?
We asked Money Morning Defense & Tech Specialist Michael A. Robinson. He is a 34-year Silicon Valley veteran and one of the top technology financial analysts working today.
According to Robinson, abandoning the market because it's volatile is a mistake.
"In a market like this, we need to consider paying a premium for the best possible stocks in the 'flight to quality' that savvy investors are making now," Robinson said.
With this strategy, you may be paying a little more, but you're not just buying a stock. You're buying peace of mind that your investment will remain solid in any market condition.
And there's one small tech leader that Robinson is recommending now.
"This tech stock offers us the potential of quick, triple-digit gains, and it's so far off Wall Street's radar that the analysts there think it's just another 'software company,' he said.